Since 1994 I have published several books focusing on issues in environment and health. The books that I have written have always followed
my own interests, passions and curiosity and a desire to help make important, but sometimes complex, subjects accessible to an interested lay audience. My books have been translated into many languages including Spanish, French, Italian, Portuguese, Polish, Russian, Greek, Japanese, Dutch and Turkish. The list below comprises my non-fiction work for adults. For my First Look At... series of children's books, see here. For books that I have contributed to, booklets and reports, see here.
Neal's Yard Remedies Healing Foods
Eat your way to a healthier life...

With its emphasis of fresh, local and organic food as the most important thing we can do for our health, Healing Foods is a perfect blend of traditional wisdom and modern scientific understanding of how food influences health.

It features in-depth profiles of over 175 "healing foods" from common fruit and vegetables to more exotic spices, pulses and grains. Each features an in-depth description on their health benefits, stunning photography and annotations highlighting which parts are particularly beneficial, and advice on how to optimise their health-giving potential.

There are also over 130 delicious recipes, from energizing breakfasts and strengthening stir-fries to snacks for a healthy pregnancy and desserts that combat colds.

This full colour hardback is published by Dorling Kindersley. It is a substantial and beautiful volume co-authored by Pat Thomas, Susan Curtis and Dragana Vilinac.

Buy a copy here.
Stuffed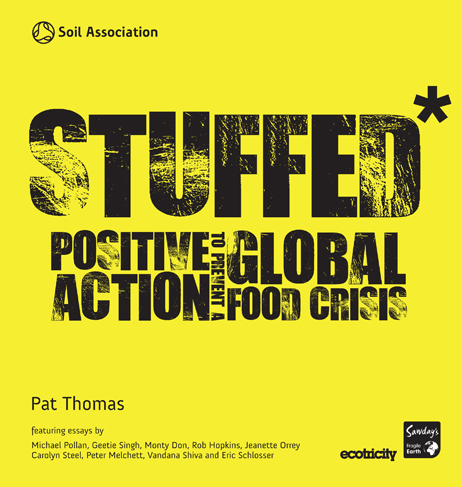 Positive action to prevent a global food crisis

Stuffed presents a global perspective on food production and agriculture and proposes a sustainable and fairly traded path we can follow to secure food for all and protection for the planet. With chapters on your kitchen through to global systems via your garden, schools, community, and a insight into food issues in cities and on farms, Stuffed takes a political and personal look the way that food systems influence, and can be influenced by, our choices.
Written by Pat Thomas (former editor of The Ecologist), a preface by Michael Pollan, (The Omnivores dilemma, and In defense of Food) and with contributing essays by respected experts, Monty Don, Geetie Singh, Jeanette Orrey, Rob Hopkins, Carolyn Steel, Peter Melchett, Patrick Holden, Vandana Shiva and Eric Schlosser.

Buy a copy here.
The 21st century is making you fat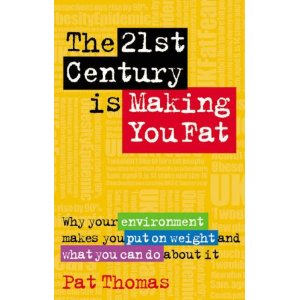 Why your environment makes you put on weight and what youo can do about it

Obesity is now officially at epidemic proportions throughout the Western world. New scientific evidence suggests that the time-honoured reasons for weight gain, namely too much food and too little exercise may not be the whole story. Environmental and social factors rife in the 21st century, such as insufficient sleep, overheating of homes and workplaces, and an overuse of prescription drugs may also be to blame. Furthermore, exposure to hormone-disrupting chemicals, known as 'chemical calories', may be making all of us vulnerable to weight-gain. Featuring scientifically-reasoned advice, this book reveals the full story about the obesity crisis our society is facing, and what we can do to improve our own lifestyles and the health of the country on the whole.

Buy a copy here.

Healthy, Happy Baby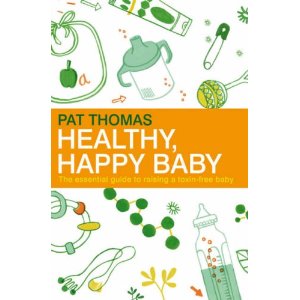 The essential guide to raising a toxin-free baby

The greatest gift parents can give their children is good health, but babies and small children are uniquely vulnerable to environmental pollution. In this practical and wide-ranging book, Ecologist editor Pat Thomas gives every parent the information they need to reduce the level of toxins and unnecessary chemicals that their baby is exposed to – from conception through to birth and beyond. The book covers everything today's well-informed parents are concerned about – from the importance of a healthy diet and cutting down on toxic toiletries in pregnancy to advice on reading the label on baby products and finding and choosing alternatives to plastic toys.

In this fascinating, topical and sometime shocking book, Pat Thomas lifts the lid on the advice, guidelines and products all parents are advised to follow or use on their babies and provides practical, easy suggestions and tips and advice on realistic alternatives. She discusses the health risks of exposure to toxins in the womb and after your baby is born and tells us how we can all make changes to our lifestyle and reduce the risk for ourselves and our children.
Buy a copy here.
Skin Deep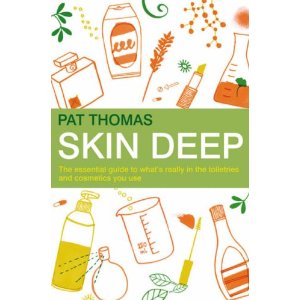 The essential guide to what's in the toiletries and cosmetics you use

We all like to believe that the latest 'miracle' cream will make us look ten years younger, and we fill our shopping baskets with hair products designed to 'smooth and shine' or make-up that promises to stay on all night long. In a world that is increasingly obsessed with appearance, we are becoming more and more vulnerable to the idea of a 'quick-fix' in a bottle.Yet many of the products we use on a daily basis contain an abundance of synthetic chemicals that pollute our bodies and, as our toxic load increases, many of us hoping for a quick-fix miracle today will be paying with our health tomorrow.
In this fascinating, topical and sometimes shocking book, Pat Thomas explains how the contents of the beauty products we use enter the bloodstream in a matter of seconds, and contain a cocktail of carcinogens, irritants and disease-causing ingredients. She discusses the health risks of exposure to these chemicals and tells you which ones to avoid. But it's not all doom and gloom – with her practical, easy suggestions, tips and recipes for alternatives, she tells us how we can all make a few simple changes to our lifestyle and reduce our toxic load.
Buy a copy here.
What's in this stuff?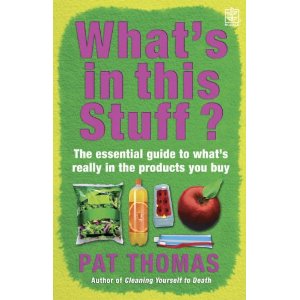 The essential guide to what's really in the products you buy

We all like to buy things that make our lives easier, keep us healthy and provide a bit of luxury. But, few of us are aware that many of the products we buy every day are polluting our homes and bodies. In this fascinating and sometimes shocking book, Pat Thomas reveals that many widely-used products contain a cocktail of cheap, poorly-tested chemicals that are implicated in long-term health problems. Many of us now scan food labels for unwanted ingredients, yet we unthinkingly use toiletries and other products that contain a multitude of undesirable chemicals, believing that what we put on our bodies is not as influential to health as what we put in them. However, scientists now believe that household and beauty products and everyday foods expose us a witches' brew of chemicals that wage a kind of chemical warfare against our bodies. Wide-ranging and practical, "What's In This Stuff?" examines everything from food additives, beauty products and household cleaners, to pharmaceutical products and garden and pet supplies. It also contains a glossary of chemicals and E numbers, a list of the 50 chemicals you should definitely avoid, and suggests non-toxic alternatives to conventional products.

Buy a copy here.
Under the weather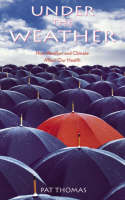 How weather and climate affect our health

In our drive to achieve good health, we consult a variety of experts, but how many of us think of consulting the weatherman? While the earliest physicians knew that the weather had a profound effect on health, this knowledge had been consigned to the dustbin of 'folk medicine' along with cures such as leeches and maggots. But not any more. Biometeorology is a new and expanding science that has shown our health to be inextricably linked to atmospheric conditions. Migraines can be triggered by cold and winds, stormy weather really does bring aches and pains and cholesterol levels rise as the temperature drops.
Buy a copy here.
living dangerously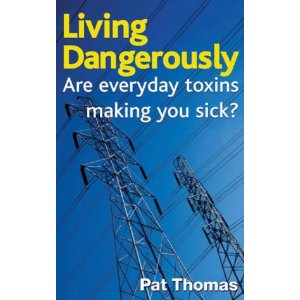 Are everyday toxins making you sick?

'There's something going around'. 'It must be stress.' These are the things we tell ourselves when we feel ill but can't figure out why. In today's world, lifestyle and environment are the two biggest threats to human health. They are also the most dangerous because, unlike the germs that give you a cold or 'flu, they take years to build up in the body before producing symptoms. 'Living Dangerously' is a different kind of health book. Aimed at anyone concerned about the vague feelings of unwellness that are all too prevalent in modern life, it mixes recent quality research with practical advice about how to prevent environmental hazards from making you ill. It speaks to readers directly about chronic health symptoms which are all too common - headaches, joint problems, vague feelings of depression - and of the environmental hazards we encounter in our everyday lives and encourages us to take symptoms seriously. Bestselling author Pat Thomas presents a comprehensive picture of what really makes us ill - toxins in the environment, not germs. She explains what the symptoms and sources of toxic overload are, as well as positive suggestions about what we can all do to avoid them. It is destined to become an important sourcebook for health promotion for all the family.

Buy a copy here.
what works, what doesn't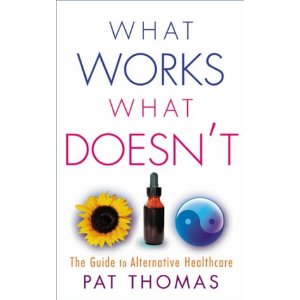 The guide to alternative healthcare

Disappointment with conventional healthcare has led to an unprecedented interest in natural alternatives. At the same time, holistic medicine and therapies have aggressively marketed themselves as safe and effective, and most of the time this is the case. But enthusiasm for alternatives is not always justified - not every therapy can cure every ill, not every supplement enhances health. Alternative healthcare is big business. The opportunity for individuals to take greater control of their health has given scope to every kind of company to manufacture, promote and sell natural therapies and medicines. Pat Thomas is passionate about the concept of alternative healthcare, but she is equally passionate about getting to the truth, and will not hesitate to criticise where appropriate in order to give the consumer a real choice. Written from the point of view that choice without information is no choice at all, it is first and foremost a consumer publication and will become the bible of alternative healthcare.

Buy a copy here.
Cleaning yourself to death
How safe is your home?

We diligently scrub, launder, deodorise and disinfect ourselves and our surroundings, in order to ensure our continued good health and well-being. But the shocking fact is that many of the products we use to ensure that we are clean and protected are made from highly toxic chemicals. We buy these products in good faith in supermarkets and shops and use them in our daily efforts towards good hygiene, unaware that they contain a range of ingredients known to cause, among other things, hormone disruption, mood swings, birth defects and even cancer. 'Cleaning Yourself to Death' takes a thorough look at the range of everyday cleaning products in our cupboards: what they contain, how they are sold and how we overuse them. Pat Thomas begins her campaigning book with comprehensive information about the skin and respiratory systems and how chemicals are absorbed through them. She then takes an in-depth look at the toiletries and household products we all use, and their adverse effects on our health. Full of practical, hard-hitting information, valuable tips on how to lessen our exposure to toxins and natural, effective alternatives, this book is a must for every home.

Buy a copy here.
Alternative therapies for pregnancy & birth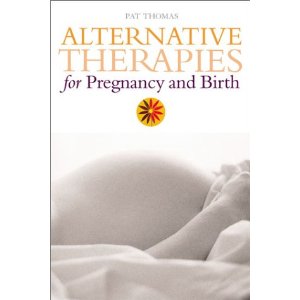 Everything you need to know for a healthy, natural pregnancy and birth

Pregnancy is an immensely joyful time, but it is also a time of new experiences and seemingly unending choices. As more and more women adopt a natural approach to pregnancy it is vital that they understand what they can do for themselves and when to enlist the help of conventional medicine. This beautfully written, authoritati guide provides information on alternatives to medicalised birth. It is a comprehensive gathering of the various natural therapies available that offers a balanced account of the treatments, outlining their benefits, limitations, and appropriateness. It covers all the effective therapies, including aromatherapy, homeopathy, massage, nutritional therapy, Alexander technique, and yoga, general guidelines for a healthy pregnancy, including nutrition, exercise and rest, and special conditions, motherhood as a lifestyle issue, including relationship changes, spirituality and getting to know your baby.
Buy a copy here.
Birth rights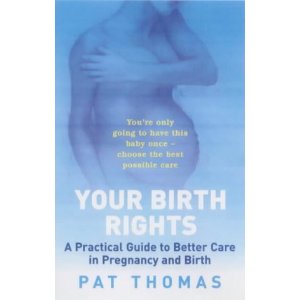 A practical guide to better care in pregnancy and birth

This guide enables mothers to make positive choices about pregnancy and childbirth, It encourages them to trust and act on their instincts rather than acquiesce to the many unevaluated routines and procedures used in maternity care. Clear, challenging, unsentimental and under-awed by the "miracle" of modern obstetrics, here is a book that women can use from the minute they know they are pregnant to become more than simply silent partners in one of the most important events in their lives.
Buy a copy here.

This is a revised and reissued version of the book Every Woman's Birthrights.
Headaches: The Commonsense Approach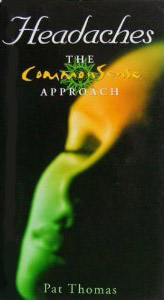 Ninety per cent of adults have had a headache at some time in their lives.
Almost twenty per cent suffer from chronic headaches, with migraines comprising eight per cent of these. Headaches are responsible for more visits to the GP - and for more drugs bought - than any other condition. Where this conventional approach seems not to be working, the world of alternative health seems to have excelled. 'Headaches: The CommonSense Approach' helps the reader become their own 'headache detective'. Thoroughly researched and written in an accessible style, Pat Thomas discusses who gets headaches and why. She helps track down their cause and covers in detail the solutions, from stress relief and diet to the various alternative remedies available such as herbs, aromatherapy, massage, acupuncture and hypnotherapy. Including helpful charts, useful addresses and further reading, this book itself will become a welcome relief for the many sufferers.
Buy a copy here.
Also sold as: Overcoming Headaches: A Natural Approach
Pregnancy: The Commonsense Approach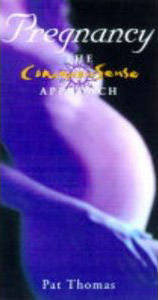 Among women there used to be a 'common' sense of what was appropriate, effective and safe in pregnancy and birth.

Today, common sense has given way to expert opinion. Pat Thomas's excellent guide hopes to restore a little balance. It will provide women with the resources they need not only to cope with, but to enjoy, their pregnancy. The author treats pregnancy as a state of health, suggesting practical guidelines for good diet and gentle exercises while offering sensible advice for common complaints that may occur. She also deals with the mother's emotional wellbeing both during and after pregnancy and looks sympathetically at the role of the man and how it can be enhanced to the benefit of both parents. Written in a supportive and easy style, the book includes helpful nutritional, useful addresses and further reading.

Buy a copy here.

Also sold as Healthy Pregnancy: A Natural Approach
Every birth is different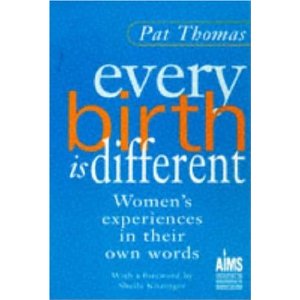 Women's experiences in their own words

Women's views on childbirth are often eclipsed by the opinions of "experts". Acknowledging that all births are different and that women themselves are the true experts, this volume of true birth stories, which features a foreword by birth expert Sheila Kitzinger, details women's own varied experiences, including water births and caesareans, home and hospital births, first and subsequent babies, with helpful explanations of options and terminology to augment each chapter this is a unique, enlightening and moving collection.

Buy a copy here.