The Cows Belong in Fields campaign

Over the course of 2010-2011 I was the campaign manager on Compassion in World Farming's Cow's Belong in Fields campaign. It was a very exciting, very public and very important campaign to work on. Below are some of the highlights of this award winning campaign...



And the Winner is...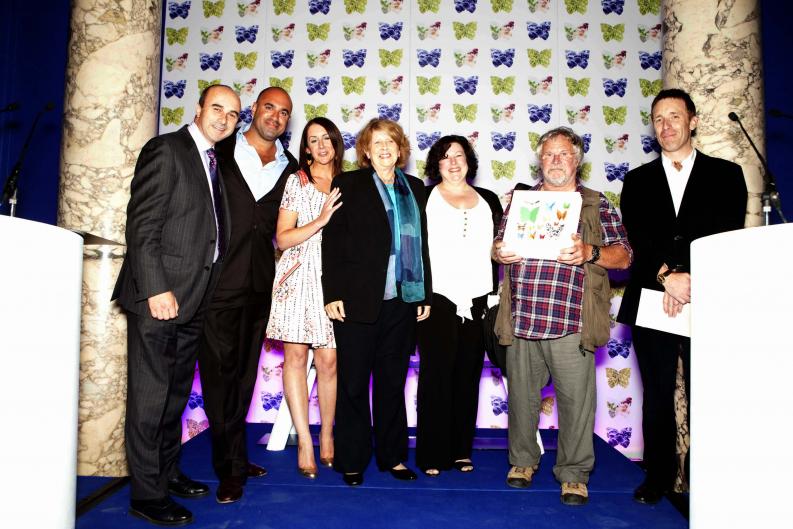 I am very happy to be able to say that last night, at a very glitzy ceremony at London's Victoria & Albert museum, the Cows Belong in Fields campaign I ran for Compassion in World Farming scooped the prestigious Campaigner of the Year award at the Observer Ethical Awards 2011. (10/6/11)
According to the Observer review: "Thousands of people voted for Compassion in World Farming and its high-profile campaign against the Nocton "mega-dairy". I am told that it was a decisive win in our category (all the more amazing since the shortlist included chef and food campaigner Hugh Fearnley-Whittingstall and campaign group 38-Degrees). I'd like to thank everyone who voted for us. We were all really thrilled and delighted to be awarded what is widely considered to be the 'green' equivalent of an Oscar. Thanks goes once again to our partners on the front line in Lincolnshire, local activist group CAFFO, with whom we will be sharing this award.
For my part I take it not just as a vote of confidence for our campaign, but a strong statement about the public's abhorrence of factory farming. Compassion in World Farming has made a bold commitment to end factory farming by 2050, and with the public behind us this commitment cannot fail.

It was ironic to be standing on the stage with my colleagues and our celebrity supporters, TV presenter/conservationist Bill Oddie and campaigner/vet Mark Abraham, accepting this award less than a day after the National Farmers Union issued a disturbing, rather sinister and grossly out of touch press release congratulating itself for its part in quashing a Women's Institute resolution against factory farming.
The NFU is doing all it can to avoid the necessary conversation about where our food system is heading. At the same time we have a government, indeed we have had successive governments, that have formulated their food and agriculture policies on the idiotic assumption that if we can only make our food system big enough it will eventually be too big to fail (come on folks…where have we heard that one before?!).
As anyone can see from stories of rising food prices, failing crops, contaminated vegetables and farmers going out of business at an alarming rate, our food system is already failing. It's failing our farmers, it's failing consumers, it's failing the environment and it's failing our animals. Making it bigger will only make it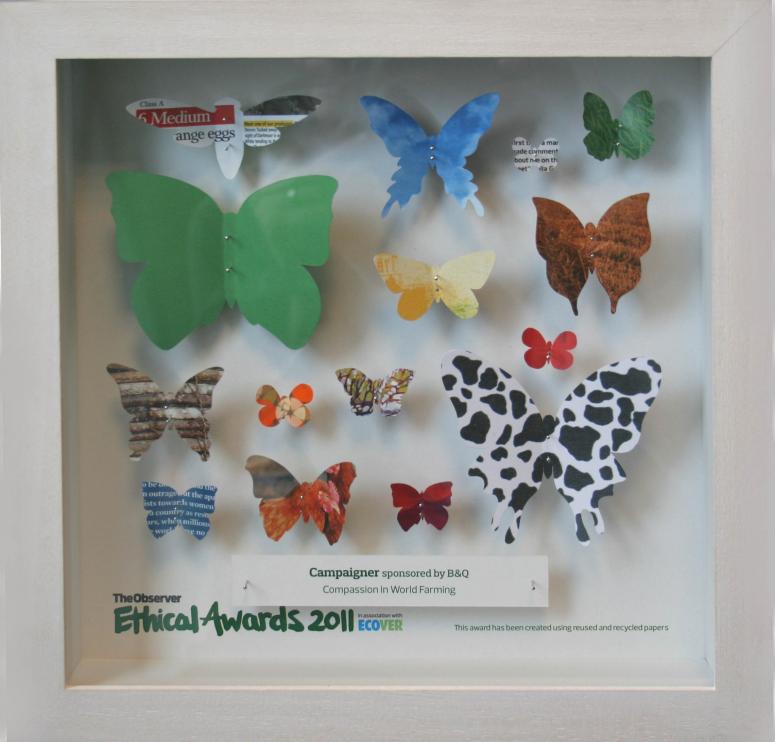 a bigger failure. We can feed the world in a way that is ethical, sustainable, safe and compassionate. CIWF aims to be a leader in this important reform and to be the ones to really get that conversation going.

This award will be a great conversation starter!


Observer Ethical Awards 2011

Hurrah! The campaign I ran for Compassion in World Farming to fend off the Nocton mega-dairy has been shortlisted in the Observer Ethical Awards 2011.
OK I admit it I am really thrilled. Giddy even. Environmental campaigners don't get many 'wins'. Very often we have to dig down deep to find the will to keep going year after year with only incremental progress to show for our efforts. But Nocton was a decisive 'win'. Compassion's Cows Belong in Fields campaign was, of course, one of many against the dairy, but it was a very public, very hard fought campaign. There was no doubt that we were seen by the dairy owners as their main adversary, and seen in the media as the voice of reason.

I'd like to acknowledge that the campaign was ably aided by local campaign group CAFFO and Compassion has already pledged that should we win we will share the award with them.

Heartfelt thanks to everyone who took the time to vote for us. For more about the Nocton campaign scroll down this page.

Related news: Congratulations to Philip Lymbery CEO of Compassion in World Farming who was this week nominated as one of the 100 most influential figures in the food industry by The Grocer Magazine. According to the Grocer: "It was the Environment Agency that put paid to Nocton Dairies' dairy mega-herd plan, but CIWF's Cows Belong in Fields campaign was key to pitting the public against the venture." (23/5/11)

Stop press...Nocton Dairies' plans put out to pasture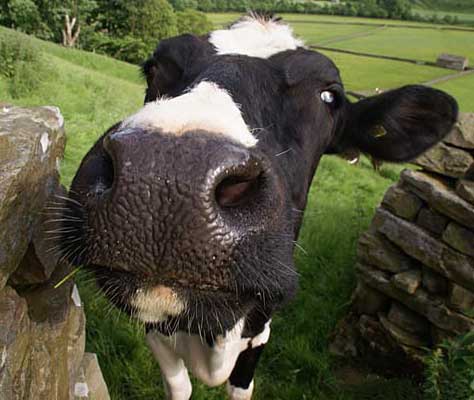 On February 16 Nocton Dairies threw in the towel and withdrew their plans for the UK's first mega-dairy.

In a short, rather terse press release the proprietors cited the objection made by the UK's Environment Agency as the main reason for their decision (and took a rather pointless and petty swipe at the NGOs and animal welfare groups which also opposed them). This focus on the Environment Agency, however, presents a very narrow and distorted picture of the sheer weight and volume of well-researched and hard-to-argue-with objections against the mega-dairy model.

In fact, the Environment Agency submitted two comprehensive objections to the plans. Other serious objections were raised by Anglian Water, the local Sustainability Officer, the Lincolnshire Wildlife Trust, and by North Kesteven District Council's own environmental consultants, AEA. The 120-page objection submitted by Compassion in World Farming – the group I have been working with (scroll down for more details) – highlighted numerous problems with the proposal, which the applicants had failed to address.

Shortly after Nocton Dairies' announcement North Kesteven District Council issued a press statement saying that it had been minded to reject the proposal on six significant grounds.

And that really is the point. After more than a year, and two separate planing applications, and millions of pounds invested, Nocton Dairies still didn't have the answers to the legitimate questions they were being asked or the legitimate concerns raised. On one of the radio interviews I did on the day the presenter said the defeat was probably, partly, my fault. I certainly hope so! The campaign I was fighting was aimed squarely at highlighting the well-documented problems of the mega-dairy model, mobilising significant resistance to these plans and stopping them.

So we've won the battle, but probably not the war. There are other plans afoot for other mega-dairies elsewhere in the UK and we all need to be involved in making sure that Government, the National Farmers' Union, dairy processors and retailers understand that industrial farming is a symptom of, not the solution to, our problems.

Read Compassion's press release here.

cows belong in fields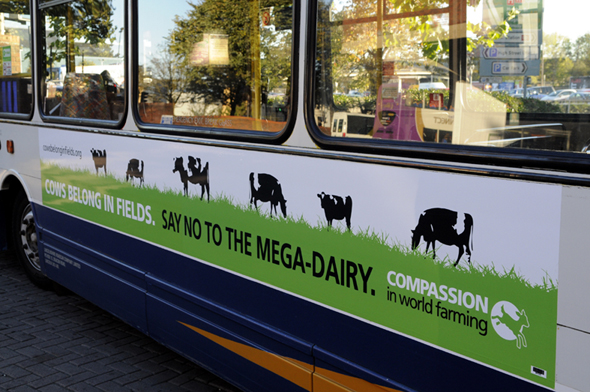 For anybody who has been wondering what I am currently up to...and why the blog hasn't been updated so frequently lately...
In September 2010 I took on one of the most complex ongoing campaigns in the UK – the campaign against Nocton Dairies.

Working as a campaign manager for Compassion in World Farming, I have been fighting hard to keep CAFO-style farming – which has done so much damage to the environment and public health in the US – out of the UK. The current proposals for the UK's first so-called 'mega-dairy' are to house 3,770 cows indoors all year round, with almost no access to pasture. Cows kept under such conditions are prone to a range of health problems in their short, exhausting lives. If the proposal, which is still being deliberated by local planning officers in rural Lincolnshire, goes ahead, and is a success, the owners intend to keep more than 8,000 cows in the same conditions in this grim-sounding industrial facility. Giving the go-ahead to Nocton Dairies also opens the door for more of these unacceptable factory farms here in the UK.

The campaign against Nocton Dairies is a particularly challenging one. So far the local council has received more than 16,000 objections to the proposal, including a damning letter of objection from the UK's Environment Agency. But as any campaigner will tell you, it's not over 'til it's over. There is still a great deal to do.

As it has gone on it has become clear that this isn't just a local issue, as the UK's farming ministers keep insisting. It goes right to the heart of animal welfare, sustainable livestock farming, the economics of dairy farming, the role that supermarkets have in controlling those economics and the intersection of environment and agriculture. It touches on consumer behaviour, ethical food choices and even on the concepts of healthy and sustainable eating now and in the future. The Nocton Dairies campaign is a testing ground for all of these issues and stopping it means that a lot of people are going to have to find the wisdom and the will to do the right thing. Here's hoping...

You can read a bit of the backround to this issue here. Find out more about the Compassion in World Farming's Cows Belong in Fields campaign here. Find out what local campaigners CAFFO (Campaign Against Factory Farming Operations) are up to here.