About the site
Sometimes you've just got to howl…
We did actually howl at the moon. A small bunch of us, strained to actual breaking point by work, and some of us by life. I grabbed a bottle of something cheap and in the middle of the day, in the middle of the city, at the moment of a powerful full moon, we trudged up what felt like a million flights of stairs to the rooftop. We drank and we howled.
I howled louder, and longer, than the others. For me, in that moment to 'howl at the moon' became the shorthand for freedom of expression of outrage, exuberance, joy, grief, depression, connection, isolation, intellectual curiosity, creativity and emotional engagement. A 'yes' to life, no matter what it throws at you.
When it came time to put together a website that said something about me, and brought together two decades of work as a writer and campaigner, there was really only one thing to call it. This website is a work in progress – like me. It's a showcase for projects, past and present, which I have been privileged and proud to undertake. I hope you find something interesting here. Your comments are most welcome.
About me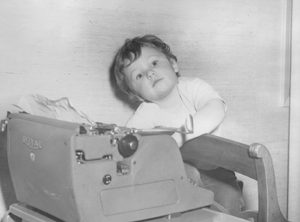 How to sum it all up? I am a journalist, author and campaigner who has spent much of my professional life working in the field of environment and alternative health.
I have always been busy and like to be 'in the thick of things', but my life shifted into another gear when I became health editor and then editor of the Ecologist magazine – the world's oldest and most influential environmental magazine – until it ceased printing in June 2009.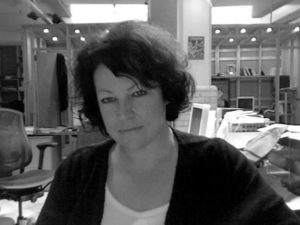 During my time there I spearheaded its campaigns, acted as its public face in the media and helped established the Ecologist Film Unit with our film partners Ecostorm. I authored some of the magazine's most talked about in-depth feature investigations and originated and wrote its popular column Behind the Label, which exposed risky chemicals in everyday products. In 2007 the Evening Standard identified me as one of the 1000 most influential people in London.
During 2010/11 I was a Campaign Manager at Compassion in World Farming – heading up a very public campaign, Cows Belong in Fields – against Nocton Dairies, the UK's first mega-dairy, where thousands of cows will be kept indoors with little or no access to pasture. The Cows Belong in Fields campaign won the Observer Ethical Award 2011 in the publicly voted category of campaign/campaigner of the year. During this time I also hosted the second series of the radio programme Deep Fried Planet on London's Resonance FM. I run another website, Infrequently Asked Questions, which uses randomly generated cards, each with a pertinent and powerful question, to promote deeper thinking and discussion about our issues and challenges – personal, health-related and collective – in deeper and more unconventional ways.
In 2011 I helped establish and became editor of the popular UK health news site Natural News – a position which I still hold – and I continue to be involved in various projects with Neal's Yard Remedies. In 2012 I was elected to the Soil Association Council; two years later myself and three other trustees publically resigned our positions. Not long after I became a trustee of the Organic Research Centre.
In 2014 I was inducted into Who's Who; in that same year I co-founded and became a Director of the UK campaigning group Beyond GM which has been responsible for several high profile, events and activities focussing on GMOs and sustainable food and farming, including the Letter from America and the unique UK visual petition GM Free Me. Through Beyond GM I am a member of the European Parliament's Sustainable Food Systems Group – which is lobbying for a comprehensive sustainable food policy in Europe, and which recently served up 1000 meals to MEPs made from food that would otherwise have gone to waste. The Free Lunch event also served up 500 meals to refugees camping in Brussels.
For (mostly) regular updates on my various activities see my home page.
Before all this…
Over 2009/10, I was the Campaign Director for Sir Paul McCartney's Meat Free Monday campaign. I was responsible for establishing the campaign as a serious voice in sustainable eating and bringing its message of meat-reduction to a wider audience.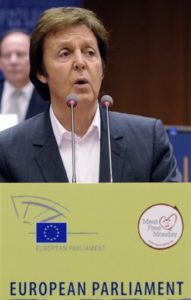 The campaign won a Vegetarian Society Special Achievement Award in 2009 for its work in promoting a reduced-meat diet. In December 2009 Sir Paul and the campaign led a panel of campaigners and scientists speaking at hearing on meat-reduction at the European Parliament – the first time a celebrity of Sir Paul's calibre had been invited to speak at such an important political forum. The hearing was broadcast around the world on TV and web and received global media coverage.
Early in 2010 I was a featured speaker at several London premiers of the film Food Inc. Working with the Soil Association, the film's UK sponsors, my role was to introduce the film, to provide a UK context and to answer questions from the audience about food production and sustainable eating. this coincided with the release of my book Stuffed: Positive Action to Prevent a Global Food Crisis. Written in a lively and accessible style, Stuffed presents a global perspective on food production and agriculture and proposes a sustainable and fairly traded path we can follow to secure food for all and protection for the planet.
Around that time I also researched and wrote a report for Friends of the Earth: Healthy Planet Eating, as well as editing the report, From Forest to Fork.
During 2006 I worked with Stella McCartney on the launch of her 'Care' range of organic cosmetics and advised the Ethical Fashion Forum on sources of quality organic cosmetics. In 2007 I was a presenter at a low-carbon eco event hosted by Sky TV. 2007 also saw the publication of A Slice of Organic Life (Dorling Kindersley), edited by Sheherazade Goldsmith, to which I contributed several chapters.
Prior to all this I was the editor of one of the UK's most popular consumer health newsletters, Proof!, and long-time contributing editor to its sister publication What Doctors Don't Tell You and was, in addition, well-known as a campaigner for maternity rights and normal birth.
I hold a diploma in psychotherapy and counselling, and have written several popular books including: The 21st Century is Making You Fat (Gaia, 2007) an acclaimed exposé of the way in which industrial chemicals contribute to weight gain and What's in This Stuff? (Rodale, 2006) a landmark look at all the ingredients in the products we buy and use every day; Under the Weather – How Weather and Climate Affect Our Health (Fusion Press, 2004), a unique and comprehensive exploration of the myriad ways in which weather and climate influence human health; and Living Dangerously – Are Everyday Toxins Making You Sick? (New Leaf, 2003), a challenging and wide-ranging investigation of environmental threats to human health.
Some of my other books include: Your Birth Rights (voted one of the 50 best books for new parents by the Independent newspaper), Headaches – The Common Sense Approach (New Leaf), Alternative Therapies for Pregnancy & Birth (Chrysalis), What Works, What Doesn't – The Guide to Alternative Healthcare (New Leaf), Living Organic (Time Life) and the best-selling Cleaning Yourself To Death (New Leaf) – the ultimate guide to the toxic chemicals in personal care and household products. My books are published throughout the world and have been translated into many languages including Spanish, French, Italian, Portuguese, Polish, Russian, Greek, Japanese, Dutch, Turkish and Chinese.
I am also the author of 28 internationally acclaimed children's books. The First Look At… series explores difficult issues such as birth, death, bullying, friendship, sibling rivalry, divorce, adoption, safety, conflict and racism. My title on divorce, My Family's Changing, won the English Association's Best picture book, non-fiction for ages 4-7 in 1998.  The most recent additions to the series were published in 2010. I believe in passionate, informed, intelligent journalism.
Throughout my career I have built a solid reputation for seeing the all-important bigger picture of health and environment, for challenging a status quo that is often unsound, unsafe and/or unproven and for helping individuals make sensible choices. This multi-faceted approach is what informs my personal perspective as a writer, and has led to my becoming known as an outspoken advocate for sustainable living.
Over the years, I've also been featured in, and written on a wide range of topics for, publications such as the Guardian, the Independent, Here's Health, Top Santé, Health & Fitness, Geographical and Caduceus. I'm often on national and local TV and radio. I've been a regular guest on Anna Raeburn's Talk Radio programme and featured on BBC Radio 4's Costing the Earth and I make regular appearances on programmes for the BBC, ITV, Radio 5 Live, Sky News, RTE, Carlton, Ireland AM, Granada Talk TV, LBC, the World Service and many others.
And before all that…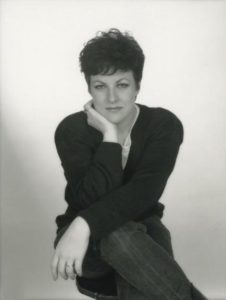 I had a career as a freelance journalist and broadcaster in the entertainment field. I worked for publications as wide and varied as the Daily Mirror, Daily Express, The Times, You Magazine, Blitz, Number One and Mizz.  My work was syndicated widely throughout the UK and abroad.
From 1989-1991 I was a contributing editor, then editor of Insight, a customer magazine produced by Woolworth's (then one of the UK's largest music outlets). It was a glossy music title that featured star interviews, news, competitions and reviews. It had a readership of more than a million customers each month.
I was also involved in radio both in the UK and America. In London I worked for Capital Radio providing interviews for the drive time programme as well as co-hosting a successful programme, Rock Giants, with David Jensen – produced for US syndication.
In addition, I was one of the UK representatives for the US radio network, Westwood One, working with the late Roger Scott providing interviews for entertainment programmes throughout the US. I travelled the world extensively during this time and was also heard all over the world via British Airways' in-flight service for which I co-hosted a series of pop music programmes over a six-year period with Simon Bates, Mike Smith, David Jensen and Andy Kershaw. I also produced and hosted my own jazz programme for BA.