Healing Foods is out!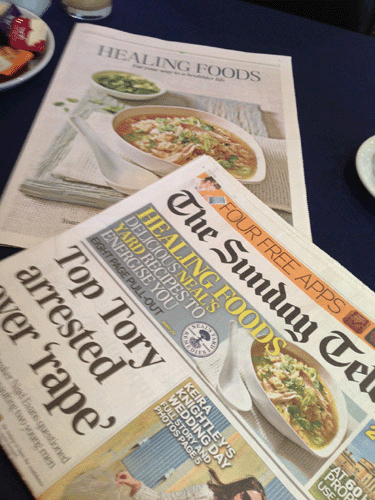 My new book – co-authored with my colleagues Susan Curtis and Dragana Vilinac from Neal's Yard Remedies – is finally out! (6/5/13)
It's called Neal's Yard Remedies Healing Foods and the launch began with a bang – a fantastic 8-page pullout in the Sunday Telegraph. The book, which features in depth descriptions of over 175 healing foods and more than 130 recipes, as well as useful suggestions for healthy eating plans, is climbing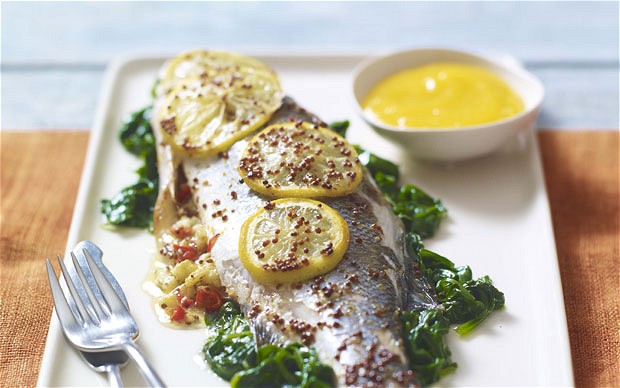 up the Amazon rankings. It's great to see it out there and thanks to everyone who has been so generous in their praise for it.

In addition to the recipes featured in the Telegraph supplement, we've put some extracts on the NYR Natural News website (which I edit): Cooking with medicinal herbs, Astragalus and schisandra broth and Quinoa and vegetable stack. Enjoy!

New book on the way!
I'm looking forward to the May 1st release of a new book, Healing Foods. (15/2/13)

With its emphasis of fresh, local and organic food as the most important thing we can do for our health, it's especially topical given the current scandal over horsemeat in processed and convenience foods.
I'm a firm believer in knowing what you are eating, and in cooking from scratch and I've got a lot of cooking classes under my belt. I've also spent a lot of my career studying and writing about food (and farming) from the perspective of what the science says.

Healing Foods is a perfect blend of traditional wisdom and modern scientific understanding of how food influences health. It features over 175 "healing foods" from common fruit and vegetables to more exotic spices, pulses and grains. Each features an in-depth description on their health benefits, stunning photography and annotations highlighting which parts are particularly beneficial, and advice on how to optimise their health-giving potential.

There are also over 130 delicious recipes, from energizing breakfasts and strengthening stir-fries to snacks for a healthy pregnancy and desserts that combat colds.

The full colour format of this book, published by Dorling Kindersley, is kind of a departure for me and was great fun to work on. It is a substantial and beautiful volume and my co-authors, Susan Curtis and Dragana Vilinac, and myself are so pleased with the way it has turned out.

Elected to the Soil Association council!
How happy am I?!
It's a real honour to be able to say that I have just been elected to the Soil Association Council. It was a very strong ballot with some great candidates and I honestly didn't expect to have a chance. Apart from being a longtime supporter of organic, I have been involved, in an ad hoc way, with the Soil Association on and off for years (scroll down through these updates for more). I am so gratified that Soil Association members felt confident enough to vote for me, as well as for food writer and campaigner Joanna Blythman, and Andrew Whitley, founder of the Village Bakery and Breadmatters – two people I know and greatly admire. I'm really looking forward to working with everyone.
Salone del Gusto and Terra Madre 2012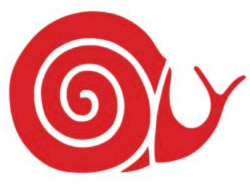 Now, this really is a treat for me... (24/9/12)
As a sustainability campaigner, part-time forager and full time passionate cook I can't tell you how much I am looking forward to being a UK delegate at the Salone del Gusto and Terra Madre 2012, in Turin, hosted by Slow Food International.

This will be my first experience of this semi-annual get together whose aim is to combine appreciation of the social/cultural aspects of food with some vital issues of sustainability.

Over 4 days the event will explore some of the key issues connected with food production and consumption: from the role of young people and small-scale traditional producers for the future of agriculture, to the safeguarding of landscapes; from the fight for GMO-free farming to the protection of herders and small-scale fishers; from the need to strengthen the relationship between producers and consumers, to the promotion of responsible food choices made with awareness of their impact on health, the environment and the production system. Can't wait.

Allora...mangiano!
New deck at Infrequently Asked Questions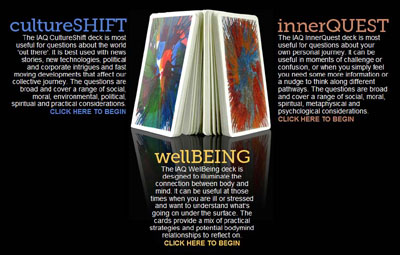 My Infrequently Asked Questions site continues to go from strength to strength thanks to word of mouth and a few nice pushes from friends. (18/9/12)
I've just added a new deck called WellBeingwhich is health focused. It's designed to illuminate the connection between body and mind and can be useful at those times when you are ill or stressed and want to understand what's going on under the surface of physical symptoms. The cards provide a mix of practical strategies and potential bodymind relationships on which to reflect.

The InnerQuest deck is great for moments of challenge or confusion, or when you simply feel you need some more information or a nudge to think along different pathways.

The CultureShift deck is for insights into events on the larger world stage (it makes the political personal!). I've had some great fun using it in the run up to the US presidential election...

There are a lot of regular visitors to the site now, which is really gratifying. If you are one of them – or about to become one of them! – remember to let your friends know about it too. It's fun and it can be a really useful tool for insight into personal and cultural issues.
Let food be thy medicine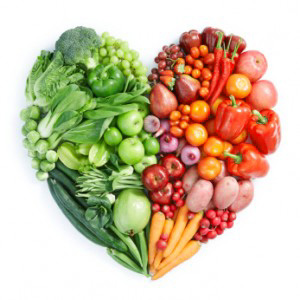 If things have been quiet on these pages recently... (10/9/12)
...it's because I've been in the middle of writing a book with my friends and colleagues at Neal's Yard Remedies Susan Curtis and Dragana Vilinac on the medicinal properties of food. It's been a mouthwatering journey, though ironically – and frustratingly – when trying to meet heavy book deadlines the one great pleasure that tends to go out the window first is cooking and eating well!

More on this project when I can give you the details...
Pow! Right in the kisser!!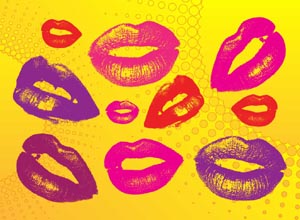 The spectre of toxic chemicals and colourings in lipsticks has raised its ugly head – again. (20/8/12)
A report out in today's Daily Mail talks about all the chemical nasties that cosmetic manufacturers put in lipsticks in the name of 'beauty'. It's a great report written by John Naish, a fine journalist and author of one of my favourite books Enough – Breaking Free From the World of More, and I was pleased to be quoted in such a generous way.

If anyone is interested I raised the issue of toxic lipsticks in my Behind the Label column in the Ecologist in 2006. The problem of ugly 'beauty' products is also featured in my books What's in This Stuff? and Skin Deep. John's article also mentions some genuinely worrying problems with, amongst other things, the antibacterial chemical Triclosan. You can read more about this in my article The Dawn of the Domestic Superbug.

You'd think by now manufacturers – and more crucially women – would have got the message and stopped using this stuff!
Summer fun at Trill Farm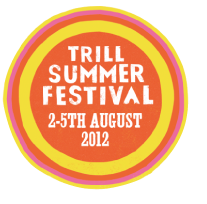 I'm very much looking forward to chairing the Biodiversity talk at this year's Trill Farm Summer Festival. (28/7/12)
My friends at Trill Farm have got a very full schedule lined up for their four-day Festival, which runs between August 2-5. In between the wildflower walks, African Drumming, poetry, singing, dancing, yoga in the woods and lantern making – and of course great organic food – there will be a series of Trill Conversations covering topics of diversity, sustainability and culture. I'll be there on August 2 to chair the Biodiversity talk and will also be around on the 3rd to generally lend a hand during a busy time on the farm! See the full programme of events here.

For those of you that don't know it (yet), Trill is a 300 acre mixed organic farm set in the rolling hills and woodlands of east Devon, close to the Jurassic coast. Romy Fraser (founder of Neal's Yard Remedies) and her family bought the farm in 2008 with the aim of developing an education centre, and community of small businesses based on the farm, working together to use resources of the diverse landscape.

The farm has a number of thriving independent enterprises established within it and a rolling programme of courses and events throughout the year. Visit the website to find out more. See you there!
Celebrating 30 years of the Organic Herb Trading Company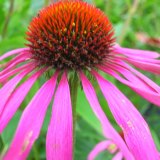 We'll be swinging in Somerset this weekend (24/6/12)
The summer is here (kind of) and I'll be chairing the Systems of Herbal Medicinetalk at the OHTC Summer Fair (June 30th, 12.30-6pm, Milverton, Somerset), which features some real heroes of mine: herbalist and author Anne McIntyre, Sebastian Pole, co-founder of Pukka Herbs as well as OHTC's Mike Brook.

OHTC is the UK's leading supplier of organic herbal ingredients. Chances are if you use UK-made organic cosmetics, or buy herbal teas or remedies in this country, some or all of the ingredients came from this amazing enterprise. The fair coincides with the 30th anniversary celebrations for OHTC and in addition to a stimulating programme of talks there will be great food, drink, entertainment and other events – and the whole thing is being powered by onsite renewable generation. It's going to be a great day out in the country so do join us if you can!
Eco hero, me?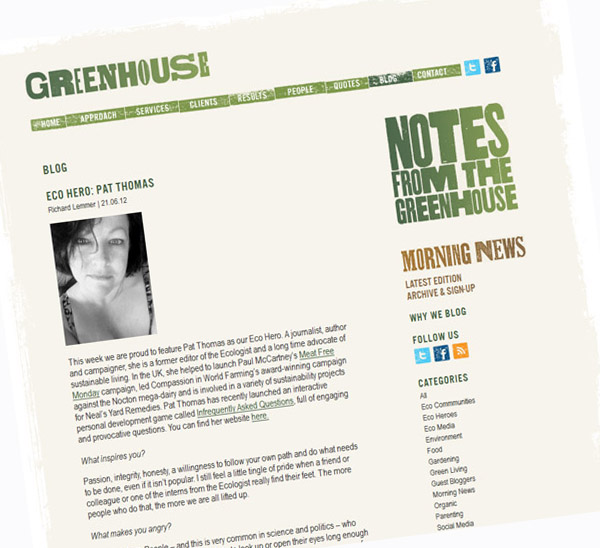 Thanks to the folks at Greenhouse PR for the opportunity to be one of their Eco Heroes. (21/6/12)

Greenhouse PR is an ethical public relations agency that works with organic, ethical and eco companies. The agency has made a name for itself by only taking clients with impeccable green credentials and refusing to 'greenwash' big brands. It was a pleasure to take part in their Q&A, which you can read here, and to be part of a really interesting collection of people in the Eco Hero series.
The Ecologist 'merges' with Resurgence

On May 31st a rather low key announcement was sent out to say that the Ecologist website had 'merged' with Resurgence magazine (8/6/12)
It talked about the Ecologist 'returning to its roots in print' – and most of us who loved the Ecologist didn't know whether to laugh out loud or cry out loud. It took a full five days for a single newspaper, the Guardian, to come up with the snotty headline Zac Goldsmith sells the Ecologist for £1 and a short article that got quite a few facts wrong, but more importantly missed the point about what had just happened and (potentially) what's been lost. For what it's worth I've written a small piece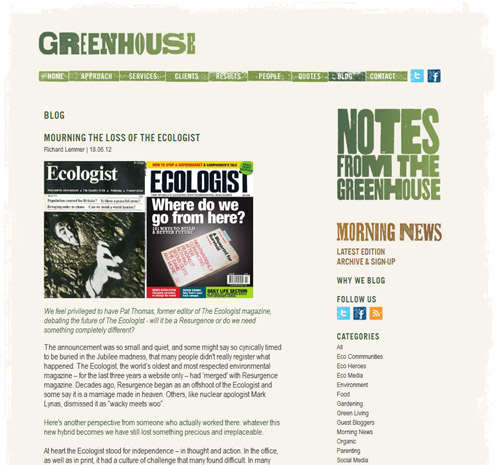 about my own experience of the Ecologist which I invite anyone who believes in independent publishing to read (and thanks to everyone who has tweeted it already). It's here.

Update: Thanks to Greehouse PR for asking me to contribute a few words about the Ecologist for their blog. You can read that piece here.
Free to say 'no'?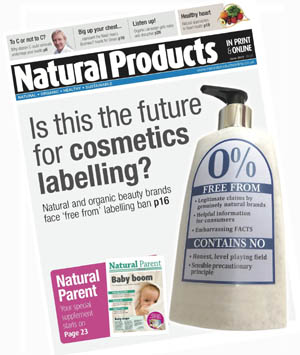 What's in that bottle? (22/5/12)

How do you know what's in the toiletries and cosmetics you buy? Chances are the label and the packaging are the first things you look at to check if your product is free from ingredients of concern such as parabens, mineral oils, phthalates, silicones, synthetic fragrances and colours and GM and nano ingredients.
There are, however, moves afoot within the EU to amend Article 20 of the Cosmetics Directive EC 1223/2009 to ban claims like 'No' and 'Free From' not only on product labels but on press and marketing materials, websites and leaflets – basically anything that a customer can read.
This is one of those sneaky amendments to existing regulations that tries to come in under most companies' and customers' radar and it could significantly affect how informed your choice is when you buy a cosmetic product, not to mention impact the businesses of organic and natural brands which after all are driving innovation in, and act as the ethical heart of, the cosmetics industry.
The amendment is being pushed in part by big companies who feel it denigrates their products when an organic or natural brand publicises the fact that it DOESN'T contain the kind or potentially harmful ingredients you find in most mainstream brands.
My friends at Neal's Yard Remedies have decided to push back and lobby the European Commission to abandon this proposed amendment. They've asked me to head up a campaign for them which aims to help shift the Commission's view. The campaign should be of interest to all organic and natural beauty brands but also to customers who value the right to make an informed choice without having to spend an hour standing in front of the shampoo section of the supermarket!
You can read more about the proposal at NYR Natural News (which I edit). See also this news story – just out – at Natural Products magazine.
There will be a special editorial by Neal's Yard Remedies owner Peter Kindersley in the June edition of Natural Products explaining more about NYR's objections to the proposed amendment. Make sure you get hold of a copy and watch this space!
Facing the future: Innovation in food and farming
Soil Association Annual Conference 2012, Royal Horticultural Halls, London, 2 March 2012
This year's conference is a celebration of innovation in food and farming. The day will be full of talks and workshops exploring this theme from two different perspectives: from a technical perspective looking at the scientific and technical progress being made in organic and low-input farming systems; and also from a commitment to Good Food for All, which contributes to the important debate about food, public health and social justice.
I'll be there blogging on behalf of the Soil Association and look forward to hearing contributions from some good friends and colleagues including Ed Hamer from Chagfood, the community supported agriculture project in Chagford, Devon; Graham Harvey author of The Carbon Fields: How Pasture Can Save the Planet; and Joanna Blythman who will be talking about her new book What to Eat.
Tickets can be booked here. Find out more about the venue here.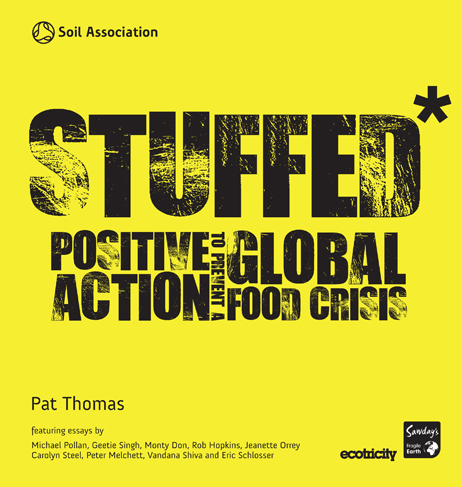 >> Check my book pages for details of Stuffed: Positive Action to Prevent a Global Food Crisis – which I wrote for the Soil Association in 2010. You can also visit Stuffed Online, a great teaching resource, here.

UPDATE: You can read all the blogs from the day here.
Life by Me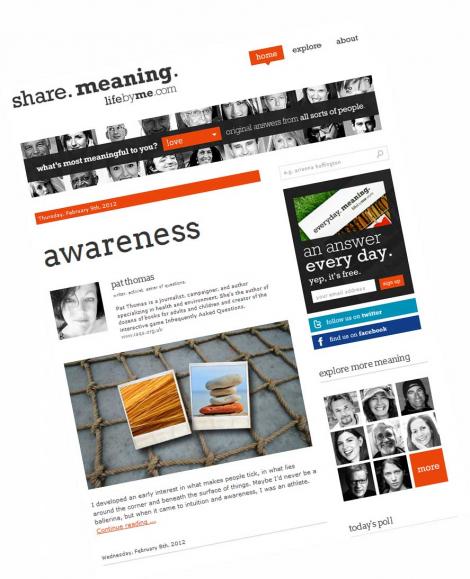 How fantastic to be featured this week on Life by Me! (9/2/12)
In case you haven't come across it yet, the website Life by Me is dedicated to sharing meaning. It asks one question of all sorts of people – "What is most meaningful to you?" – and then every day it features one original answer.

I'm humbled to find my face amongst a real stellar collection of individuals, one that evens the playing field between, as they put it, world leaders and mums, Nobel Peace Prize recipients and fishermen and media moguls and prison inmates.

What links us is the power of a personal story to evoke a meaningful conversation. Please take the time to visit the site and be inspired.
Infrequently asked questions - a game for grown-ups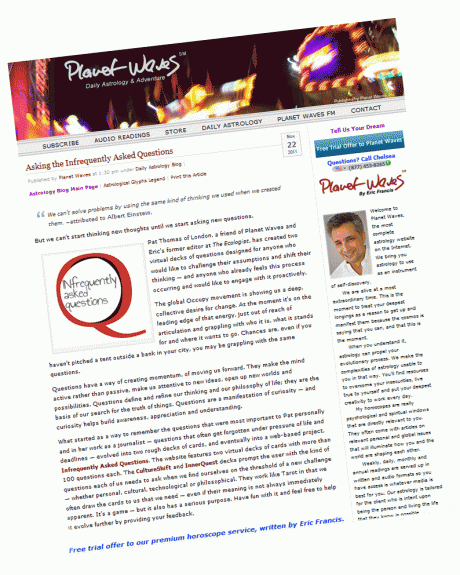 A big THANK YOU to Eric Francis and his wonderful colleagues at Planet Waves – the most complete, most innovative and most switched-on astrology site on the web – for giving such a generous plug to my new project Infrequently Asked Questions.
The IAQ project launch was featured in the Friday November 18 subscriber edition and then again on the Daily Astrology pages on November 22. I have been completely blown away by the huge response and the number of people who have visited the site since then!

The project itself – which consists of two beautiful virtual decks of cards – is rapidly evolving. It is a game – but with a serious underlying purpose: to get us to ask more meaningful questions about our own personal and cultural issues. The decks are full of the kind of questions we often forget to ask when we are tired, stressed, overwhelmed or just caught up in the autopilot mode of modern life.

I hope visitors here will also take the time to explore the IAQ site, play with the cards and hopefully find it both interesting and enlightening. If so, let your friends know and please take a moment to tweet and facebook it so others can do the same.
A new natural health website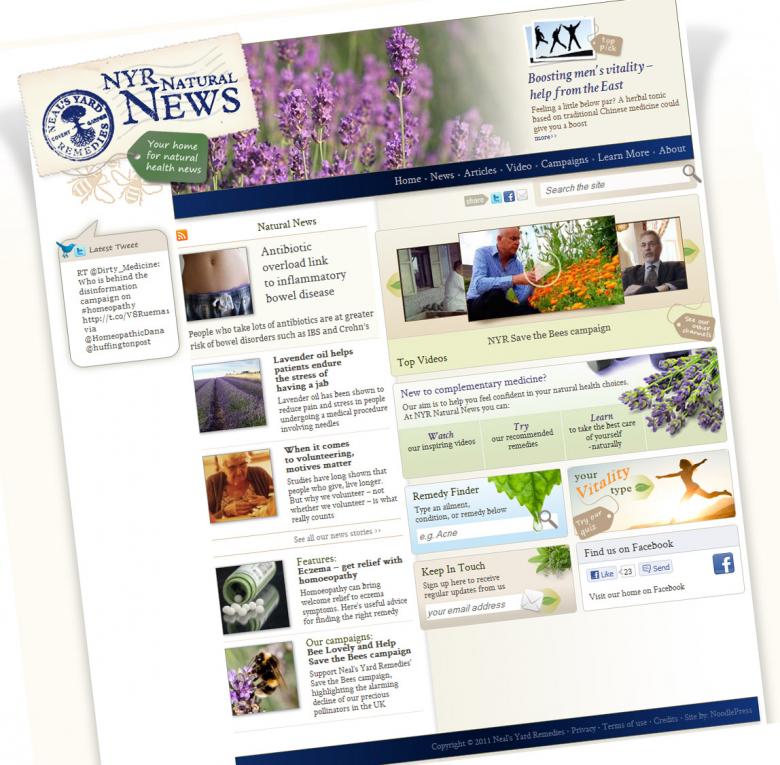 People who know me will know that I am an advocate of alternative and complementary medicine. It is my preferred first line of care for myself and my family and has been for decades.
I have built part of my professional reputation investigating and writing about healthcare, as well as the intersection of health and environment, but it is also a personal passion.

So I was really happy to be asked to help launch and edit a new project of Neal's Yard Remedies called NYR Natural News – a web resource dedicated to natural health and healing with news, articles, videos and interactive features.

Not only is it great to be working on a UK-based site of this kind, but for me it represents a kind of coming full circle.

I was one of the first customers of the first Neal's Yard store in Covent Garden when it opened in 1981. In those days it was called the Neal's Yard Apothecary and its focus was on herbal and homeopathic remedies, essential oils and books and information on a whole range of therapies and lifestyle alternatives. My first experience of things like acupuncture, shiatsu, hypnotherapy and psychotherapy were in the therapy rooms above the shop. These things changed my worldview and my life forever.

Although NYR has evolved over the years to become a world-class producer of organic beauty products, it remains a significant force in natural health, working with around 1000 therapists in its therapy rooms across the UK. It is this, and NYR's 30 years of experience in natural healthcare, that the new website draws on.

I hope you will take the time to visit.

Join me at the Battle of Ideas festival 2011

Is big business ruining food? That is the question some of us will be debating on Saturday 29 October, 10.30am -12.00pm.
The debate is just one part of this year's Battle of Ideas – an annual event organised by the Institute of Ideas and hosted by the Royal College of Art. The weekend event has a full programme of high-level, thought-provoking debate on issues that matter.

The Battle of Ideas festival, now in its sixth year, is very much about a public conversation. The emphasis is on audience participation, and the festival is open to anyone with intellectual curiosity and the courage to think critically. The weekend includes more than 70 lively debates which you can learn more about here.

I'm really looking forward to my tiny part in it all. Please come along and join in.

UPDATE: Listen to the full debate below.


And the Winner is...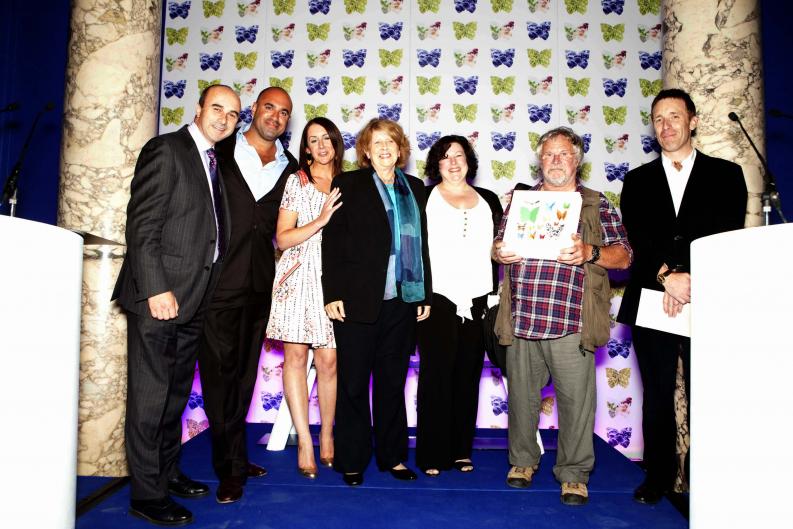 I am very happy to be able to say that last night, at a very glitzy ceremony at London's Victoria & Albert museum, the Cows Belong in Fields campaign I ran for Compassion in World Farming scooped the prestigious Campaigner of the Year award at the Observer Ethical Awards 2011. (10/6/11)
According to the Observer review: "Thousands of people voted for Compassion in World Farming and its high-profile campaign against the Nocton "mega-dairy". I am told that it was a decisive win in our category (all the more amazing since the shortlist included chef and food campaigner Hugh Fearnley-Whittingstall and campaign group 38-Degrees). I'd like to thank everyone who voted for us. We were all really thrilled and delighted to be awarded what is widely considered to be the 'green' equivalent of an Oscar. Thanks goes once again to our partners on the front line in Lincolnshire, local activist group CAFFO, with whom we will be sharing this award.
For my part I take it not just as a vote of confidence for our campaign, but a strong statement about the public's abhorrence of factory farming. Compassion in World Farming has made a bold commitment to end factory farming by 2050, and with the public behind us this commitment cannot fail.

It was ironic to be standing on the stage with my colleagues and our celebrity supporters, TV presenter/conservationist Bill Oddie and campaigner/vet Mark Abraham, accepting this award less than a day after the National Farmers Union issued a disturbing, rather sinister and grossly out of touch press release congratulating itself for its part in quashing a Women's Institute resolution against factory farming.
The NFU is doing all it can to avoid the necessary conversation about where our food system is heading. At the same time we have a government, indeed we have had successive governments, that have formulated their food and agriculture policies on the idiotic assumption that if we can only make our food system big enough it will eventually be too big to fail (come on folks…where have we heard that one before?!).
As anyone can see from stories of rising food prices, failing crops, contaminated vegetables and farmers going out of business at an alarming rate, our food system is already failing. It's failing our farmers, it's failing consumers, it's failing the environment and it's failing our animals. Making it bigger will only make it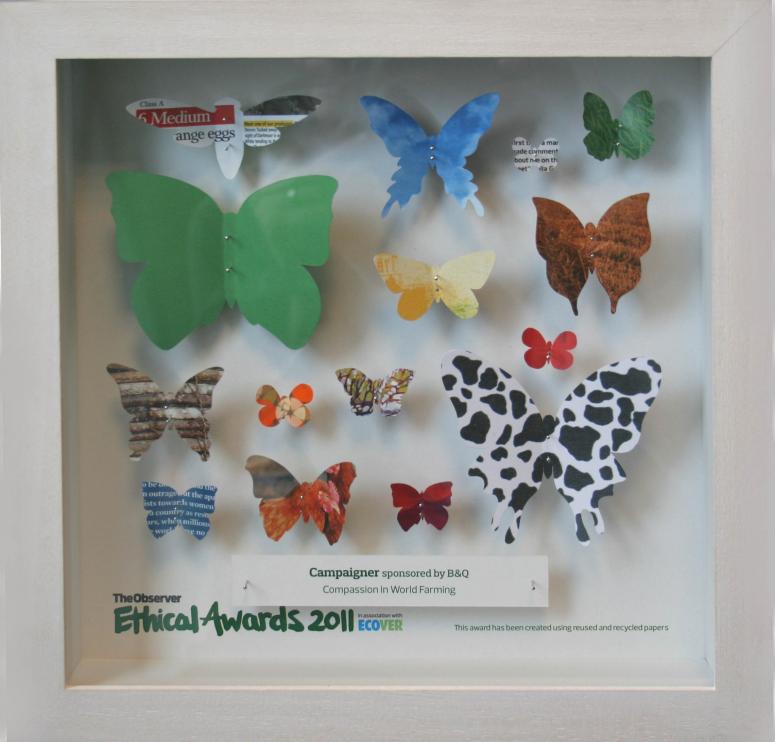 a bigger failure. We can feed the world in a way that is ethical, sustainable, safe and compassionate. CIWF aims to be a leader in this important reform and to be the ones to really get that conversation going.

This award will be a great conversation starter!


Observer Ethical Awards 2011

Hurrah! The campaign I ran for Compassion in World Farming to fend off the Nocton mega-dairy has been shortlisted in the Observer Ethical Awards 2011.
OK I admit it I am really thrilled. Giddy even. Environmental campaigners don't get many 'wins'. Very often we have to dig down deep to find the will to keep going year after year with only incremental progress to show for our efforts. But Nocton was a decisive 'win'. Compassion's Cows Belong in Fields campaign was, of course, one of many against the dairy, but it was a very public, very hard fought campaign. There was no doubt that we were seen by the dairy owners as their main adversary, and seen in the media as the voice of reason.

I'd like to acknowledge that the campaign was ably aided by local campaign group CAFFO and Compassion has already pledged that should we win we will share the award with them.

Heartfelt thanks to everyone who took the time to vote for us. For more about the Nocton campaign scroll down this page.

Related news: Congratulations to Philip Lymbery CEO of Compassion in World Farming who was this week nominated as one of the 100 most influential figures in the food industry by The Grocer Magazine. According to the Grocer: "It was the Environment Agency that put paid to Nocton Dairies' dairy mega-herd plan, but CIWF's Cows Belong in Fields campaign was key to pitting the public against the venture." (23/5/11)

From the Archives
I see avian influenza, or 'bird flu', is bubbling under the news headlines again...

The first time around I must have done 40 different radio and TV programmes. This 'bird flu' special from the BBC World Service was definitely the most interesting and the most fun. Here are some excerpts from the hour-long programme which went out sometime around the end of 2006. This edition of Have Your Say was hosted by Robin Lustig and broadcast to around 11 million people via television, radio and the internet. I was the studio guest and Dr Samuel Jutzi of the UN Food & Agriculture Organization in Rome was a guest via satellite. The programme invited comment from, and guest interaction with, people from all over the world. Here is a 15-minute edited version of just my bits.





Stop press...Nocton Dairies' plans put out to pasture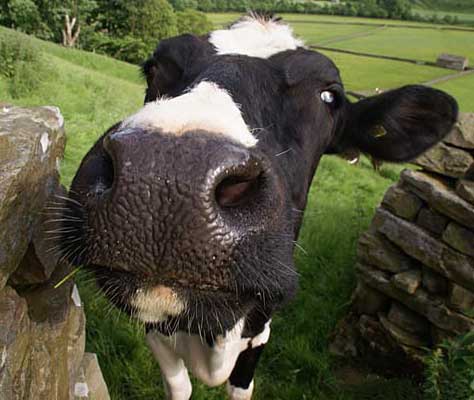 On February 16 Nocton Dairies threw in the towel and withdrew their plans for the UK's first mega-dairy.

In a short, rather terse press release the proprietors cited the objection made by the UK's Environment Agency as the main reason for their decision (and took a rather pointless and petty swipe at the NGOs and animal welfare groups which also opposed them). This focus on the Environment Agency, however, presents a very narrow and distorted picture of the sheer weight and volume of well-researched and hard-to-argue-with objections against the mega-dairy model.

In fact, the Environment Agency submitted two comprehensive objections to the plans. Other serious objections were raised by Anglian Water, the local Sustainability Officer, the Lincolnshire Wildlife Trust, and by North Kesteven District Council's own environmental consultants, AEA. The 120-page objection submitted by Compassion in World Farming – the group I have been working with (scroll down for more details) – highlighted numerous problems with the proposal, which the applicants had failed to address.

Shortly after Nocton Dairies' announcement North Kesteven District Council issued a press statement saying that it had been minded to reject the proposal on six significant grounds.

And that really is the point. After more than a year, and two separate planing applications, and millions of pounds invested, Nocton Dairies still didn't have the answers to the legitimate questions they were being asked or the legitimate concerns raised. On one of the radio interviews I did on the day the presenter said the defeat was probably, partly, my fault. I certainly hope so! The campaign I was fighting was aimed squarely at highlighting the well-documented problems of the mega-dairy model, mobilising significant resistance to these plans and stopping them.

So we've won the battle, but probably not the war. There are other plans afoot for other mega-dairies elsewhere in the UK and we all need to be involved in making sure that Government, the National Farmers' Union, dairy processors and retailers understand that industrial farming is a symptom of, not the solution to, our problems.

Read Compassion's press release here.

cows belong in fields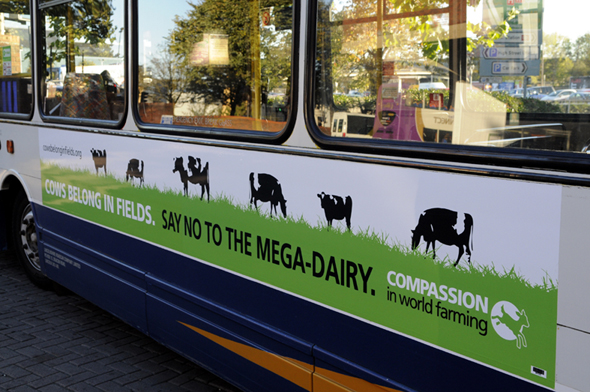 For anybody who has been wondering what I am currently up to...and why the blog hasn't been updated so frequently lately...
In September 2010 I took on one of the most complex ongoing campaigns in the UK – the campaign against Nocton Dairies.

Working as a campaign manager for Compassion in World Farming, I have been fighting hard to keep CAFO-style farming – which has done so much damage to the environment and public health in the US – out of the UK. The current proposals for the UK's first so-called 'mega-dairy' are to house 3,770 cows indoors all year round, with almost no access to pasture. Cows kept under such conditions are prone to a range of health problems in their short, exhausting lives. If the proposal, which is still being deliberated by local planning officers in rural Lincolnshire, goes ahead, and is a success, the owners intend to keep more than 8,000 cows in the same conditions in this grim-sounding industrial facility. Giving the go-ahead to Nocton Dairies also opens the door for more of these unacceptable factory farms here in the UK.

The campaign against Nocton Dairies is a particularly challenging one. So far the local council has received more than 16,000 objections to the proposal, including a damning letter of objection from the UK's Environment Agency. But as any campaigner will tell you, it's not over 'til it's over. There is still a great deal to do.

As it has gone on it has become clear that this isn't just a local issue, as the UK's farming ministers keep insisting. It goes right to the heart of animal welfare, sustainable livestock farming, the economics of dairy farming, the role that supermarkets have in controlling those economics and the intersection of environment and agriculture. It touches on consumer behaviour, ethical food choices and even on the concepts of healthy and sustainable eating now and in the future. The Nocton Dairies campaign is a testing ground for all of these issues and stopping it means that a lot of people are going to have to find the wisdom and the will to do the right thing. Here's hoping...

You can read a bit of the backround to this issue here. Find out more about the Compassion in World Farming's Cows Belong in Fields campaign here. Find out what local campaigners CAFFO (Campaign Against Factory Farming Operations) are up to here.

Stuffed Goes Online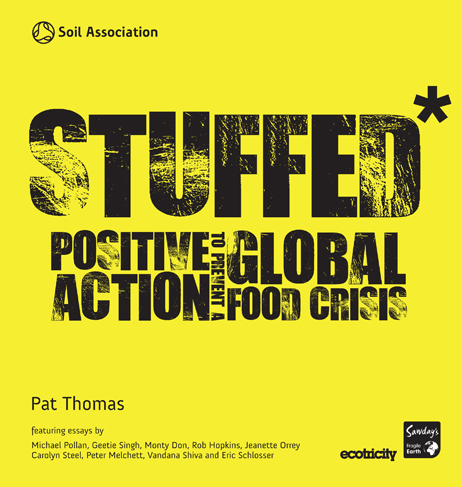 Stuffed Online - a great teaching resource
Stuffed Online – based around the issues in my book Stuffed: Positive Action to Prevent a Global Food Crisis – is a vital teaching resource provided by the Soil Association's Food for Life Partnership. It sets out debates about the future of food, allowing teachers and students to explore the issues surrounding how our food is produced and what impact this is having on our environment, society and animal welfare. Each debate has resources – relevant articles, weblinks and information – that will confirm or challenge your understanding about the impact of our current food production and consumption.

Check it out here. For more about Stuffed see my books pages.

Deep Fried Planet Special - Ecocide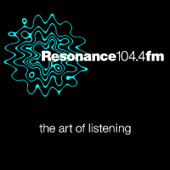 An special edition focusing on the crime of ecocide, November 15.
The current series of Deep Fried Planet has ended. But we're not quite finished yet! In this extended special edition I speak to the initiator of the Universal Declaration of Planetary Rights, barrister turned activist Polly Higgins, about her campaign to make ecocide a crime. Can we really use the law to take us, as a society, from ecocidal to ecocentric? Join us for an in-depth discussion of an important topic.

Click here to find out more about previous programmes.

Healthy Planet Eating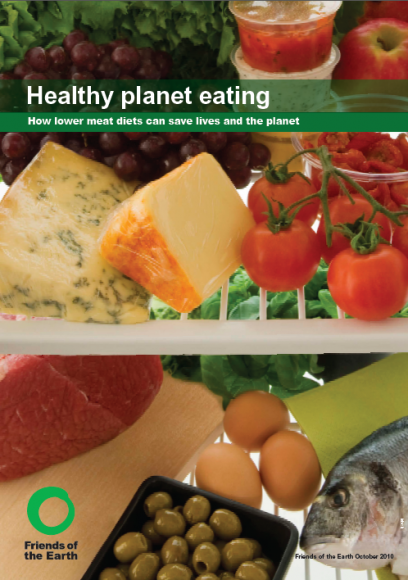 Check out my new report on sustainable, healthy eating for Friends of the Earth. (19/10/10)
I was really pleased to be asked to produce this report for Friends of the Earth. It pulls together pretty much all that is known about healthy eating, and provides a roadmap to where our modern meat/protein heavy diet has gone wrong. It also incorporates important research by Oxford University's Department of Public Health, specially commissioned by FOE, which shows that eating less meat would mean 31,000 fewer deaths from heart disease, 9,000 fewer cancer deaths and 5,000 fewer deaths caused by stroke in the UK each year. What that means is that a change in our diets isn't just necessary for the health of the planet, it's necessary for our health as well. You can read the report here.

Update: In February 2011 the UK government finally began to catch up with what many of us have been saying for a long time. New nutritional advice, issued by the Department of Health, recommended that people who eat lots of red and processed meat cut their daily intake in order to reduce the risk of bowel cancer. You can read that advice here.


Older updates can be found here.