The essential reference for essential oils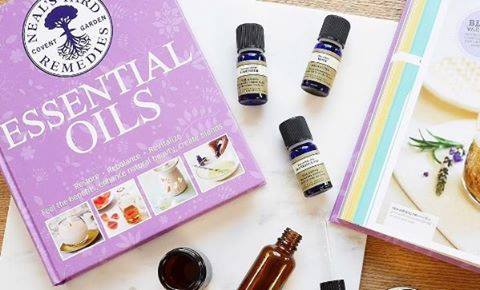 Great to see this lovely volume finally in the shops (11/10/16)

Neal's Yard Remedies Essential Oils is a great reference work but also so much more than that. It contains detailed information on oils and ingredients, tips on making your own superb blends and pampering recipes and ways to use aromatherapy to support health and healing. I was fortunate to work with collegues Susan Curtis and Fran Johnson again on this book (we previously worked together on the Neal's Yard Remedies Beauty Book - see below).
It's available now. I hope you enjoy it.

On tour with neil young - again!
I'm finally heading home after 2 months on the road with the Neil Young and Promise of the Real Rebel Content tour. (24/7/16)

It may have looked like things were quite over the last few months but they have been anything but! My group Beyond GM was chosen to organise the GMO and Future of Farming tents for the Global Village of Activists that accompanied Neil Young on his 2016 European tour. It was a tremendous opportunity to do some grassroots campaigning and to strengthen our networks throughout Europe. The Villages on UK home territory were particulalry gratifying and allowed us to meet so many people who really 'get it' and who want a sustainable food system that guarantees us health and security far into the future.
After two months of frantic prep, 2 months of touring, 15 countries, 25 villages, thousands of people engaged, several films produced and lots of social media I can finally unpack! Thanks to all our partner NGOs who joined us in each country to help make a difference. Let's keep standing up for a sustainable food system in Europe.
Enjoy (I know I did)!
New kids video project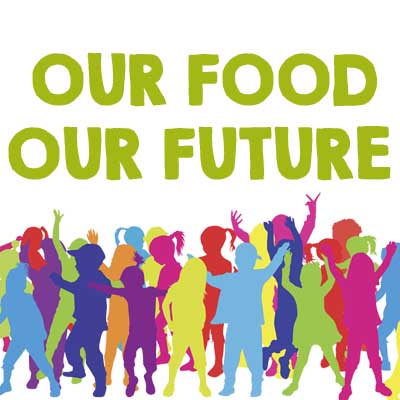 It's their future and they must have a voice. (4/4/16)

This I'm currently involved as producer on a unique video project for my group Beyond GM.
Our Food Our Future aims to give children a chance to speak up about GMOs and educate other kids in the world about their experiences.
It is calling on kids of all ages in the Americas to start an international conversation by sending in a short video of themselves talking about the food issues that affect them and their families, with a specific focus on GMOs, pesticides, labelling, health, environment, activism and the future.
The project is a next phase of the successful Letter from America project which launched in 2014 to international acclaim and with widespread support by US NGOs and high profile individuals.
Our Food Our Future aims to get kids in the Americas telling their stories to kids in the UK and the rest of Europe, where many governments, including the British government, are planning to plant GMO crops and, with the implementation of the Transatlantic Trade and Investment Partnership (TTIP), import more GMOs foods and animal feed.
We've been very luck to have Beyond GM's teen 'ambassador' Mya-Rose Craig (aka Birdgirl) assits us with our video appeal.
If you have kids - or grandkids - or are a kid living in the AMericas please support the project by uploading yoru video here.
NYR Beauty Book is out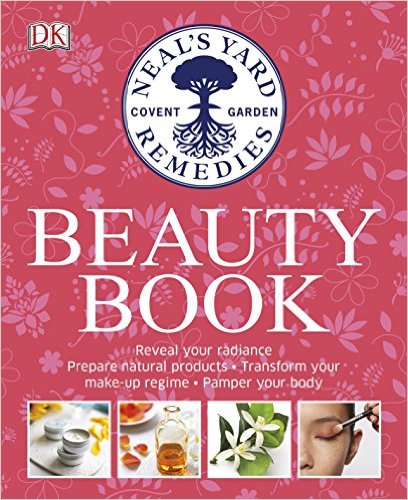 It's always a pleasure to produce these beautiful books with Neal's Yard Remedies. (20/2/16)

This Neal's Yard Remedies Beauty Book can help you change your beauty regime by giving an in depth look at natural ingredients, recipes for homemade treats and make-up looks that enhance your natural beauty.
I first made my name challenging the toxic ingredients that are put into most personal care products. We do a lot of ugly things in the name of beauty - but it doesn't have to be that way.
I was very pleased to see the book featured in the Daily Telegraph and it has had a fantastic reception by others including the Beauty Bible, Good Housekeeping and lots of online sites.
There will be more books on the way. Next up the only guideyou will ever need to essential oils...
Our campaign is growing

The last year or so has seen the Beyond GM group grow and reach out to ever more people in the UK. (13/2/16)

After 20 years of failure it's hard to believe that corporate interests are still pushing the GMO agenda in what amounts to a large uncontrolled experiment in food and human health. But they are and if possible even harder – and with even more money in their pockets – than before. Beyond GM was founded late in 2014 by myself and others to ensure that when it comes to agricultural GM, we have an engaged and educated public that understands the problems - as well as the solutions - and will speak out for a better, fairer, safer food system than genetic modification could ever provide.
From the establishment of core campaign of Beyond GM we now have a thriving GM Free Me campaign, the phenomenally successful Letter form America - now translated into 8 languages, lively GMO OMG film nights, and a growing group of mothers Mums Say no to GMOs who are putting forward the consumer case. This year we have embarked on a major photographic campaign We Feed The World, to help highlight the importance of small and famly farmers to the future of our food system. There will be more to come as the year unfolds.
Please support us and use our websites and social media as resources to help you keep in touch and to understand more about agricultural GMOs and their impact on food, environment and health.
Winter wellness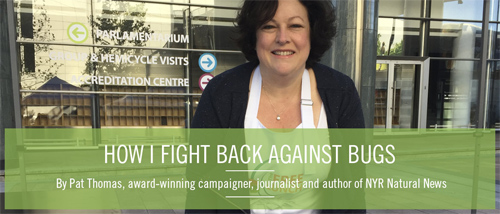 Staying healthy in the winter is mostly a matter of common sense. (5/2/16)

It's great to be asked to write something positive about health for a change! This month I am the guest blogger on Neal's Yard Remedies Year of Wellbeing site where I share a few simple tips for keeping the bugs at bay. I'll also be answering questisons on Neal's Yard Remedies twitter page on February 10th so check in an join the discussion. For more in depth information on health and well being make sure to follow NYR Natural News, which I edit, and which is a wealth news updates, articles and reliable information on how to manage your health naturally.
There is such a thing as a free lunch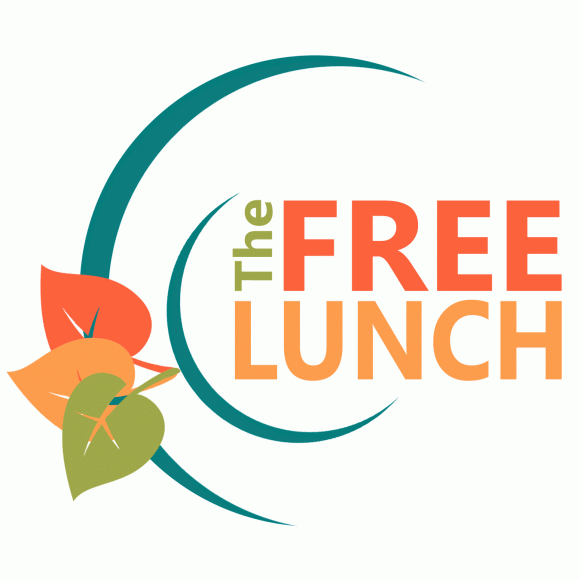 And a bunch of us proved it this week... (3/10/15)
My group, Beyond GM, worked with the Humane Society International, Compassion in World Farming, Food for Life Global and the European Parliament's Sustainable Food Systems Group to put on a special event highlighting waste – and sustainability – in the food system.
The Free Lunch which took place on the Esplanade of the European Parliament was by all accounts the largest food event outside the European Parliament ever. We served around 1000 people on the Esplanade and around 500 refugees camped out in Parc Maximilien received the surplus from the day.
All the organisations behind the event were involved in the sourcing and preparation of the food – but of course we also had professional chefs including Peter O'Grady of Food for All/Feeding the 5000. We estimate we used between 1-1 ½ tonnes of nourishing – and non-GMO! – plant-based food that would otherwise have gone to waste.
You can see some of the photos and videos from the pre-event cooking and the event itself on Beyond GM's Facebook page as well as on The Free Lunch Facebook page. You can read more about the event here.
On tour with Neil Young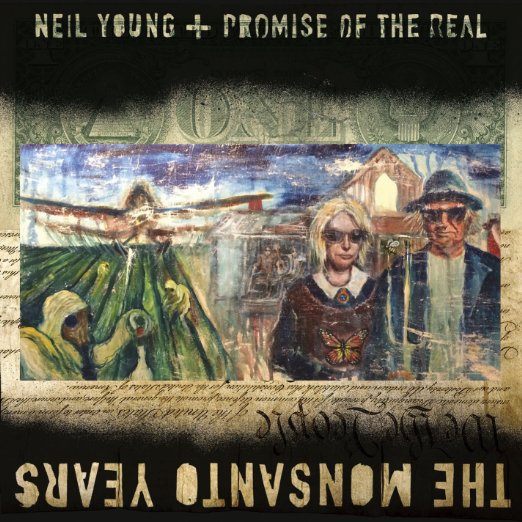 It's been some time since I dusted off my rock & roll shoes... (26/7/15)
But I did just that this month - and got a chance to reconcile my former career with my current one - when Beyond GM joined our colleagues at GMO Free USA on tour with Neil Young + Promise of the Real as they criss-crossed the USA to promote the new studio album, The Monsanto Years.
Neil took an activist 'village 'with him on the tour, made up of a number of different NGOs whose focus ranged from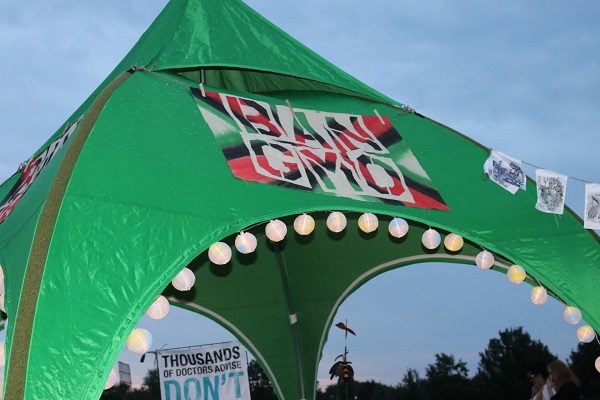 environmental and human issues, from climate change and social justice, to renewable energy and ocean conservation. We were housed in several tents which concertgoers could explore, and where they can talk to knowledgeable people about the issues that they care about.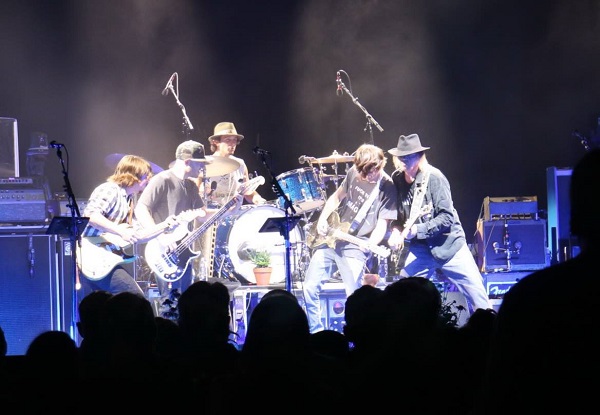 And it has was great talking to fans - so many of whom signed up to Beyond GM's Letter from America initiative. All were shocked to see how the EU, which has held out for so long against GMOs, is now capitulating to Big Biotech.
We were also treated to an inspirational concert each night, which evolved and got sharper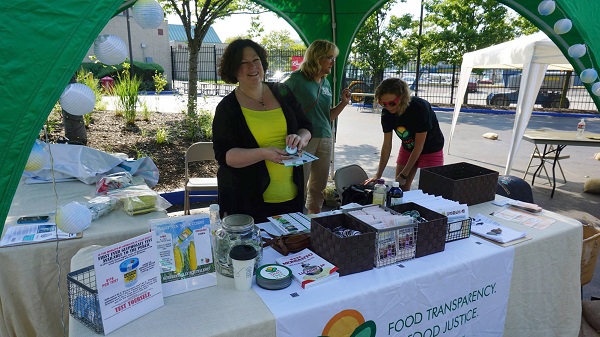 and better as the tour went on. And how great to hear such an enthusiastic response to the show and the great songs on his album, many of which have some very challenging messages.
For more pics see the Beyond GM facebook page.
BBC Panorama cultivating lies and ignorance around GMOs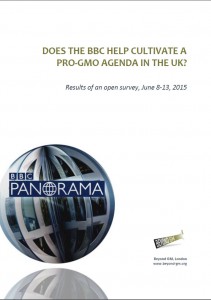 I've seen a lot of really crappy TV programmes about GMOs over the years. (8/7/15)

I've read so-called 'news' stories that were blatantly re-written press releases, and so essentially advertisements for the biotech industry. My expectations of the media in this regard, are now so low I can't usually be surprised. But watching the BBC Panorama programme GM Food- Cultivating Fear something snapped in me and many others I know.
My Beyond GM colleague Lawrence Woodward and I wrote a comprehensive critique of this shameful programme, which purported to be 'balanced' but which relied on a parade of pro-GM advocates - some of whom are GM patent holders and therefore vested interests - to provide its narrative. It was a cynical, misleading, cherry-picked GMO love-fest that fell far below the BBC standards (though these have been slipping of late) and painted those who have legitimate questions and concerns about GMOs (a group that includes the majority of BBC viewers) as hysterics, fear-mongers and Luddites.
On the heels of the programme Beyond GM also undertook an open survey of 1000 people to ascertain how adequately and respectfully public concerns about genetic modification in food and farming are represented by the BBC. This substantial document Does the BBC Help cultivate a Pro-GMO Agenda in the UK?, of which I am the lead author, is now available online.
It shows that nearly 70% of respondents (drawn from both sides of the GMO fence) do not trust the independence of experts featured on BBC programmes. Nearly 90% of the people surveyed felt that academics, researchers and other independent experts featured on BBC programmes should reveal their sources of income, corporate affiliations and whether or not they are patent holders to the public before being interviewed on BBC programmes. Nearly three quarters of the respondents felt the BBC programming represented a pro-GM stance.
The report - a significant addition to the literature on public views on GMOs - features context and background to our media's preoccupation with a pro-GMO agenda, and makes a plea for a broader debate that includes and respects the widespread public concern over GMOs in our food system.
Mixing it up at the GMO Free Regions conference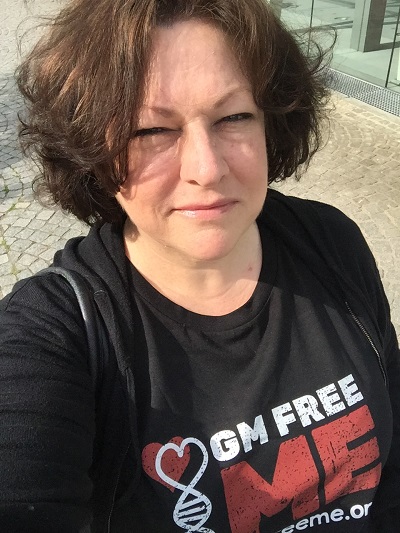 I had a great time in Berlin at the recent GMO Free Regions conference this month. (12/5/15)

I was there representing my campaiging group Beyond GM.
Participants from political circles, economists, scientists and civil society from all over Europe, as well as guests from America, Asia and Africa met and had many discussions and workshops about building a future agricultural system without genetically modified plants and animals.
It was great to meet people whom I had corresponded with for a long time and I left feeling very positive that eventhough our government doesn't have a clue about GMOs, ther eare plenty of hardworking NGOs who are out there setting the record straight.
I was also fortunate enough to be part of a panel on TTIP and it's impact on GMOS in Europe (alongside my opposite numbers at Friends of the Earth and Corporate Observatory Europe, as well as being aksed to put together a short workshop on public engagement with the GMOS issue that introduced the work of Beyond GM to the European GMO community(read more about the conference here).
The weather was magnificent and I also had some time to do some sightseeing - something I hadn't done since the Wall was still standing!
All in all, a good week.
The twisted 'truth' about GMOs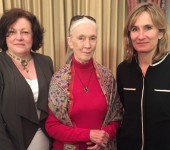 We were fortunate enough at Beyond GM to facilitate the press launch of the book Altered Genes, Twisted Truth. (5/3/15)
The book is written by US attorney Steven Druker and features a foreword by the renowned primatologist Dame Jane Goodall (pictured with myself and colleague Fran Price, left).

The book is the result of more than 15 years of intensive research and investigation by Druker stands as an important history lesson in GMOs. Druker, came to prominence for initiating a lawsuit against the US Food and Drug Administration (FDA) that forced it to divulge its files on GM foods. Those files revealed that GM foods first achieved commercialisation in 1992 only because the FDA:
Covered up the extensive warnings of its own scientists about their dangers.
And then violated federal food safety law by permitting these foods to be marketed without having been proven safe through standard testing.
You can read more about the event and the book on the Beyond GM site.
What todays EU vote on GMOs means to you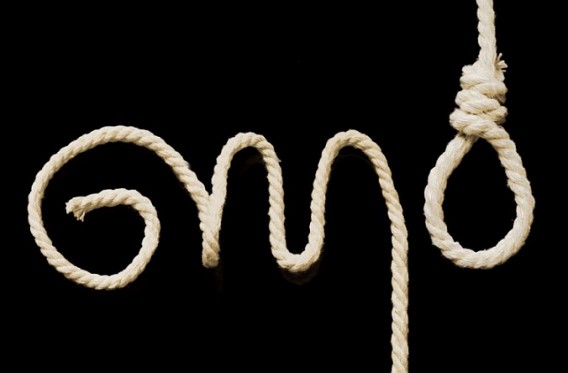 Today the European Parliament debated then voted on a controversial Directive that would allow individual Member States to ban cultivation of genetically modified organisms on their territories even when the crop is authorised at EU level. (13/1/15)
While some may think this is a good thing, in fact the flawed and deeply compromised Directive, which was written behind closed doors at EU level, means that the UK is now more likely than ever to fast track the planting of GM crops and open the doors to more GM products in our food supply. You can read my take on this flawed legislation here.
More in sorrow than in anger: resignation from the Soil Association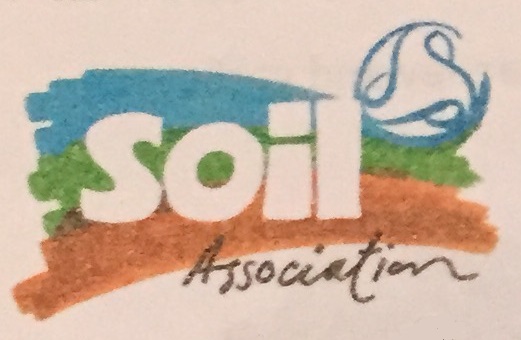 On November 18th we – Joanna Blythman, Lynda Brown, Pat Thomas and Andrew Whitley – resigned as trustees of the Soil Association (27/11/14)
We expect fellow members of the Soil Association will wonder why. In a democratic organisation they certainly have a right to be told without delay.
Below is an edited version of our resignation letter and a shortened summary of the concerns which led to our collective action, following a vote by a majority of the Soil Association Council not to hold an emergency meeting to address the issues.
A longer account of our concerns is available, should Soil Association members or the wider community wish to read it.
We think that the organic approach to food and farming is ecologically coherent, humane, scientifically responsible and potent and we remain committed supporters of the organisation's founding purposes. We hope that our action stimulates thought about how the Soil Association might campaign most effectively for the adoption of organic ideas in order to build a healthy society from the ground up.

Click here to read the resignation letter and list of concerns.

Additional statement from me: As a long-time supporter of the Soil Association, resignation was a terrible choice to contemplate and one that left me feeling as if I had let down those members who had voted me onto Council in the first place. It was not a decison taken lightly. However, I remain resolute in my belief that the organisation has lost its way, has lost its unique voice in the food and farming landscape and has largely abandoned 'organic' in both the philosophical and practical sense of the word, in order to be part of an already overcrowded field of 'healthy eating' charities. This abandonment comes at a moment in time when well-articulated alternatives to the industrial model of food production are so urgently needed. Will anyone thank the Soil Association for this in 20 years' time? I doubt it.

Read coverage in

Natural Products & here
Farmer's Weekly
Guardian
New interview with the permapeople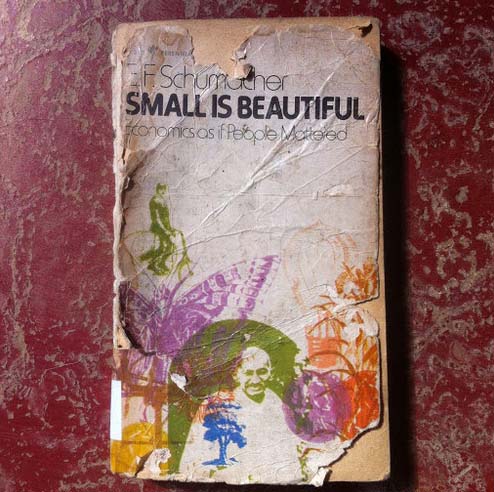 It's always nice to run into an old friend... (23/11/14)
At the recent launch of the new campaigning initiative Beyond GM at the London Seed Festival I was interviewed by a colleague from my Ecologist days, Phil Moore for his new project Permaculture People.
You can listen to the short interview which covers, GMOs, seed sovereignty, activism, people power and the power of hope at this link.
The Letter from America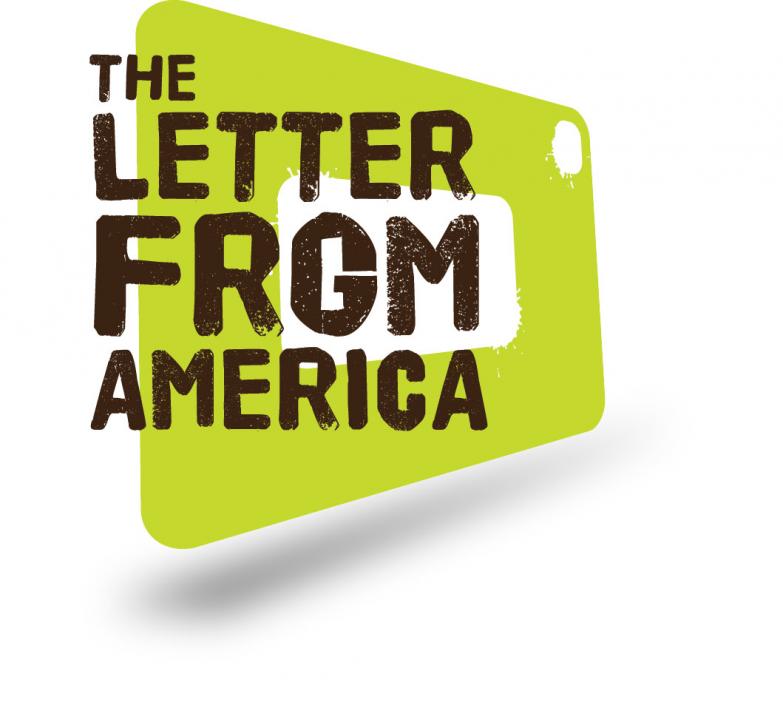 When it comes to GMOs, 57 million Americans can't be wrong (13/11/14)
I was so proud to see the launch of the new Beyond GMinitiative The Letter from America.
The fully referenced letter, signed by groups and individuals representing some 57 million Americans was is a powerfully written plea for us in the UK and teh rest of Europe to learn from America's mistakes and not to go down the route of planting GMO crops
It was signed by celebrities such as Susan Sarandon, Daryl Hannah, Frances Fisher, by activists like Robert Kennedy Jr, by the renown environmentalist Wendell Berry, by big environmental NGOs like the Sierra Club and Friends of the Earth, by consumer groups like the Organic Consumers Association, by progressive groups like MoveOn, Care2 and Corporate Responsibility International, by health groups like the Physicians for Social Responsibility and Healthcare Without Harm, by organic businesses like NYR Organic (Neal's Yard Remedies' US business) and Nutiva, and many, many more.
It was taken to Number 10 Downing St and then launched to the wider world as a full page ad in the Times newspaper and as an amazing digital billboard – seen by hundreds of thousands of commuters at London Waterloo – Europe's busiest railway station.
It was featured in, amongst others, the Daily Mail, the Guardian, the Express and the Metro. The BBC World Service broadcast it to millions. Our partners in the US sent it out to their millions of members and followers too.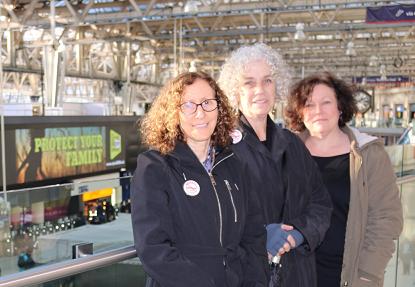 Thanks go to Pamm Larry of Label GMOS and Diana Reeves of GMO Free USA who helped drive the letter in the US. It was great to have them here for the launch.
Now that the letter is open to all US citizens to sign more than 10,000 have done so. In the UK citizens are sending it to their MPs starting a conversation that has been had in this country for many years. All in all it was a good week.
It's time to move Beyond GM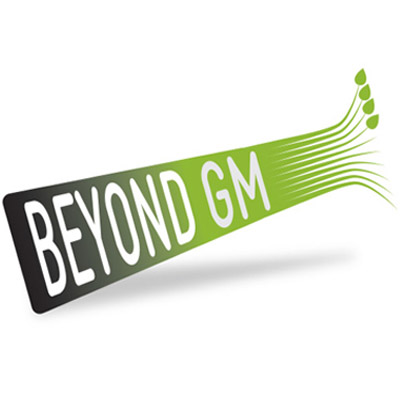 There's a new campaign in town... (12/10/14)
And we launched with a bang at London's Garden Museum where we welcomed over 130 people through the doors of The Garden Museum on the evening of Friday October 10 to eat, drink, watch and ask questions about GMOs, seed sovereignty and the future of food.
The evening marked the official launch of the Beyond GM campaign as well as the beginning of The Great Seed Festival and was so well attended, that many people ended up standing in order to view the documentary.
The American film, which scooped the best documentary feature film at the recent 24th Annual Environmental Media Association Awards in California, follows a father of three, Jeremy Siefert, as he travels across the US trying to find answers to his questions about genetically modified food.
Siefert's honest and very human approach to this complex subject is what makes the film so appealing and by the end of the evening it was clear it had resonated with many people in the audience who also have concerns.
The film sparked a variety of interesting questions and comments from the audience, which stayed behind to take part in the panel discussion, chaired by myself, joined by fellow campaign director, Lawrence Woodward; farmer and founder of the CSA Chagfood in Chagford, Devon, Ed Hamer; and organic entrepreneur and founder of Jo Wood Organics, Jo Wood.
Although the evening focused on a serious subject, there was still time for a few drinks, a delicious organic buffet courtesy of chef Sylvain Jamois and good deal of banter. While everyone expected to learn something, many commented that they hadn't expected to have such an enjoyable time doing so.
The sense of community and open, engaged inquiry ran right through the whole of the London Seeds Festival, which attracted a varied and lively number of visitors over the weekend and following week.
Beyond GM will be hosting more events like this so watch this space!
GMOs? It's time for people power!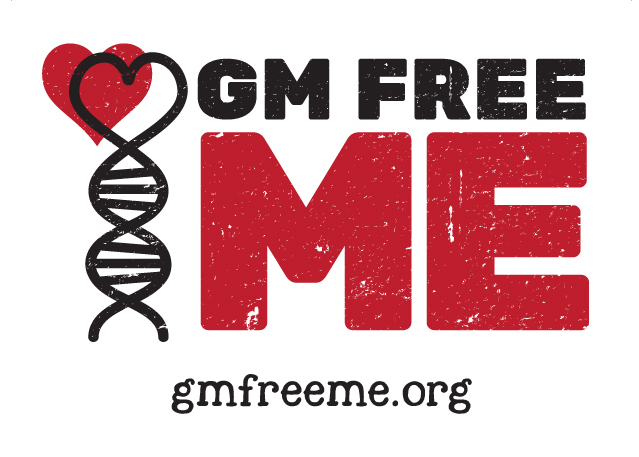 If you want to keep GMOs out of the UK, here's where to begin... (22/9/14)
GMOs have been with us for nearly 20 years. In the early 90s a very visible public and media campaign helped keep them out of our fields and off our plates in the UK and the rest of Europe. But that kind of public engagement has largely petered out in the UK thanks to a concerted effort by biotech companies to make averge people feel like they are too stupid to join the discussion.

I talk to a lot of people about GMOs and know that the majority have legitmate concerns, on all kinds of levels, about the UK's proposed embrace of GM crops and foods. But these concerns have no real outlet. So I have decided to do something about that.

GM Free ME is a visual petition. Not just another selfish selfie, the campaign ask is simple. Upload a photo of yourself holding the printable GM Free ME card, or if your are so inclined the e-card for tablets and ipads, and join this lively 'national portrait gallery' of real people of all ages and backgrounds who are tired of politicians, regulators, pro-industry scientists and media pushing GM technology into our farming and food system whilst ignoring the concerns and opposition of average people.
Once your photo is uploaded it goes onto a map of the UK divided into political constituencies. The more of us in each area, the more power we have and the more pressure we can all bring to bear locally and nationally. So why not get your family, friends and colleagues involved too? Then share it on social media (and send it to your MP – there's a button for that onsite!) and encourage others to join in so we can really make a noise.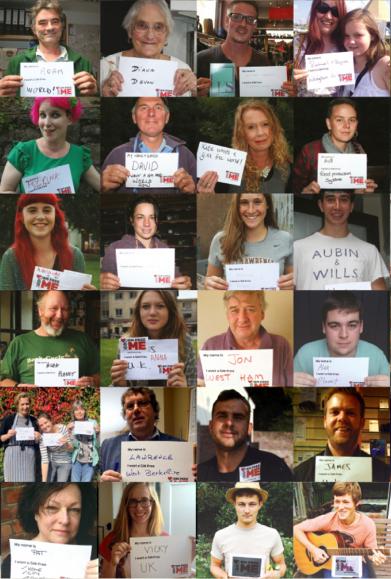 Does it take longer than posting yet another angry tweet about GM? Yes. But not much longer, and by adding your face to the gallery you are showing that people power is alive and well and determined to stop the UK becoming a GM nation.

GM Free ME is the first salvo from a larger campaign called Beyond GM - a new independent initiative set up by experienced campaigners and journalists (myself included).

Beyond GM's goal is to raise the level of the debate on genetically modified organisms (GMOs) in the UK and elsewhere, at both the local and national level. It aims to bring some vitality back into GM campaigning as well as broaden the discussion about GMOs beyond the abstract, and often impenetrable, scientific and academic arena and out into the public arena.
More on this later - in the mean time please add your face and voice to this lively initiative.
It's Good to Laugh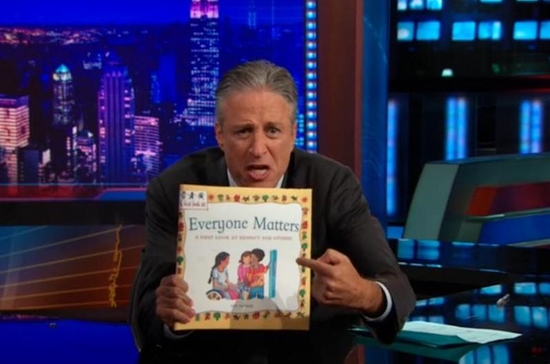 I am a huge fan of comedy satire show The Daily Show with Jon Stewart... (22/7/14)
...so imagine my surprise as I was watching tonight and Jon Stewart held up one of my kids books in the opening bit of the show.

In one of those delightful moments that life occasionally throws up, the Daily Show ran a taped interview with Senator John McCain saying that Jon Stewart, and his politcal views, really don't matter. Jon pulled my 2010 children's book Everyone Matters from under his desk, pointed at it and shouted "You lied to me book! You lied!", and went on to challenge McCain to a Daily Show 'Wong-Off'. I nearly fell off the sofa and may even have gained some 'cool' points with my son (a rare occurence).

Jon (& team) you are AMAZING and I am just shallow enough for this tiny, utterly radom moment to be one of the highlights of my year.

Click here to see more on my First Look at series for kids.
You better look before you leap!

It's a sad fact of life that, where money is concerned, there is almost no limit to the risks that politicians and corporations are willing to take with our health and well-being (15/3/14)
Open a newspaper, pick a story – you'll find this is true. My topic of choice in the news this week is the Precautionary Principle, an approach to risk and uncertainty that is embedded in European law. This concept is one reason why the EU has not gone down quite such a perilous road – for example in terms of toxic chemicals and GMOs – as other parts of the world.

Now a shameful, self-interested army of sceptics (paid and unpaid), politicians, CEOs, global trade organisations and corrupt "scientists" and "regulators" has decided wage war on the Precautionary Principle. Step by step thay are trying to reframe it as "unscientific" and an obstruction to "progress" and "innovation".

Indeed, if you read and listen carefully these days, you will regularly hear the concepts of "precaution" and "innovation" being presented as if they are polar opposites.

They are not. You are being manipulated.

This is a classic ploy – abusing language to conflate the pursuit of something unworthy, unproven and risky (such as GMOs and growth hormones in beef and milk) with something that we perceive as positive, such as "progress" (whatever that is!). Most people never question how the language is being abused, but those who consider themselves independent thinkers absolutely should.

Make no mistake, objections to the limits that Precautionary Principle sets – even when they come out of the mouths of so-called scientists – have nothing to do with science. They are about money, politics, profit, secrecy and continuing to do business in the same toxic way that has caused so much misery and loss of well-being in civil society over countless decades.

I have some strong things to say about this and my thanks to the Ecologist which has allowed me to expand on the themes first raised in this week's NYR Natural News editorial.

Click here to read that article, GMOs – Throwing precaution to the wind.
Checking in...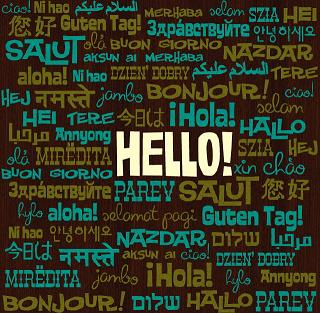 It may look quiet on the outside... (21/2/14)
...but there's plenty of activity going on under the radar! I have just finished three new titles in my First Look At... series for children – these are due out later this year. I also have two books for adults to deliver this year. One is a follow on to the hugely successful (I'm pleased to say) Healing Foods (scroll down for more on this or see the pullout features in both the Sunday Telegraph and Hello! magazine). The other takes me back to my roots as a nature lover. I've also been very active behind the scenes in the anti-GMO world – indeed this work has taken up a huge amount of time in the last 6 months or so (more on this soon). And of course my work at NYR Natural News, the only UK-based website for natural health news, keeps me hopping. The site has grown enormously in the last year or so and we are now building a very substantial audience of people who want good information on alternative and complementary health options and who want to know more about the connections between environment, multinational corporations, political policy and our wellbeing.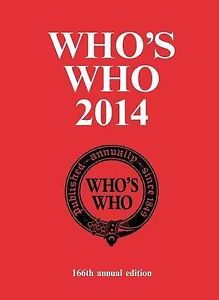 My work as a Trustee of the Soil Association is also very challenging. I also hope to have news of a particulary exciting media project very soon.

The beginning 2014 also saw me inducted into Who's Who which prides itself on being "the definitive directory of everyone who's anyone in Britain, and beyond, today". It's nice to be noticed!

If you are looking for my most recent writing check the NYR Natural News editorials, which go out every other week with our e-newsletter. I try to keep my articles pages updated too, though it can be a big task!

Thanks for your continued interest in this site.
GM health risk week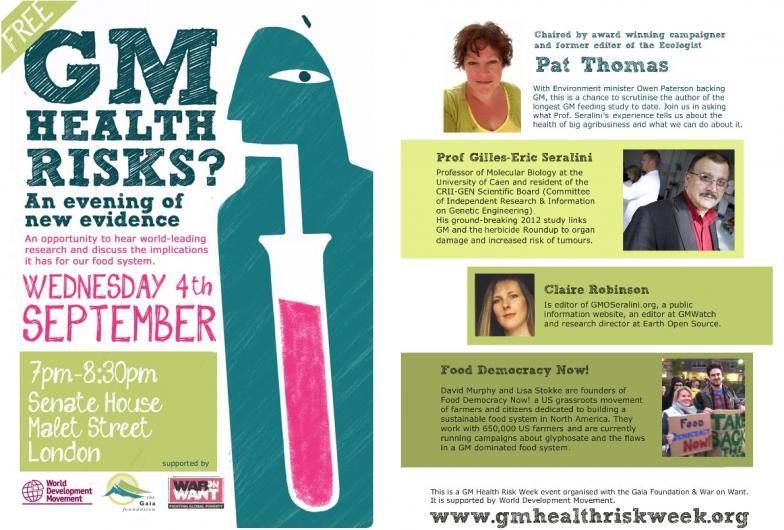 It's GM Health Risk Week this September 2-8, and I will be chairing one of the London events. (1/9/13)
The aim of the week is to explore recent evidence that casts uncertainty over the safety of GM food; to begin a public debate around the risks and regulation of GM food; and highlight the results of the 2012 study by Prof Gilles-Eric Séralini, which found that rats fed with Monsanto's GM NK603 maize and tiny amounts of Roundup pesticide suffered severe organ damage and increased risk of tumours and premature death (you can read more about Prof Séralini's findings here).

During the week internationally renowned scientists and commentators including Professor Séralini will present their evidence and engage in discussions in locations around the UK. The series of talks and events is intended to highlight the campaigning efforts which already exist and to alert decision makers to the need for more research and better regulation of GM.

It will be a great chance to develop discussions around GM health risks, regulation, the food system and democracy.

I will be chairing an event on the evening of September 4th called GM Health Risks - An Evening of New Evidence featuring presentations from Professor Séralini, Claire Robinson from UK-based campaigning group GM Watch and David Murphy and Lisa Stokke co-founder of US-based Food Democracy Now!

The evening is being supported by the Gaia Foundation, War on Want and the World Development Movement.

Please come along if you can or see the main website for events that may be hapening near you.

Articles of interest by me:

The GM manifesto

Why Millions Marched Against Monsanto
Multiple tumours found in rats fed on Monsanto's GM corn
Where's the proof that GM food is safe to eat?
Fantastic Healing Foods event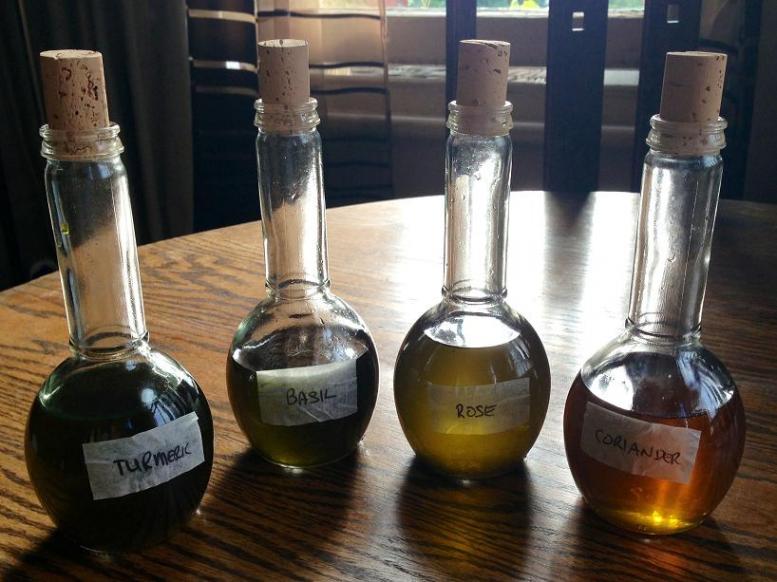 Because sometimes we need to hear good news about food... (27/8/13)
I'm very much looking forward to being a part of the latest in the series of 'Meet the Experts' talks sponsored by Neal's Yard Remedies on August 29, 6-8pm in Central London.

We've been really buoyed by the success of our Healing Foods book and to celebrate this and the imminent release of NYR's new Superfoods range this special evening event hosted by my co-author Susan Curtis – NYR Director of Natural Health, myself, and the NYR Training team will be looking at how to optimise wellbeing through nutrition.

We've whipped up some of the great recipes featured in the book as well as some new ones incorporating our superfoods. I'll be bringing some luscious oils (picture above) to try – and maybe one or two herb syrups. And of course there are signed copies of the Healing Foods book, as well.

Join us if you can. Here's more details.
Rallying the troops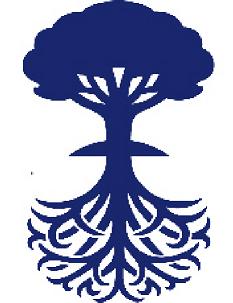 What fun to have been invited to speak about GMOs at the recent NYRO annual conference in Phoenix, Arizona. (5/8/13)

It was a lightning visit - and one that reminded me of the true impact of jet lag. But it was so worth it to meet NYR Organic's fabulous and motivated consultants, many of whom see themselves as activists as well as businesswomen, and talk with them about the multiple health and environment problems that come with GMO crops, why it's important to oppose them and also, for a long established business like Neals Yard Remedies, how continued planting of these toxic crops threaten the organic supply chain.

Here's the intro to my talk talk:

"I'm here to talk about GM, but maybe from a different perspective then you are used to. I want to tell the story of it, what it is and how we got to where we are today particularly here in the US which produces 50% of all the world's GM food, and consumes so much of that.
"The story of GM has been told by a lot of people, by a lot of campaigners, not always very articulately or well. It is often told as a David & Goliath tail, a right to know tale, and an us against the faceless corporation tale. It's certainly all of those things, but its many more things besides and it looks different depending on where you live and how far your country has gone towards adopting GMOs.
"For me it's also a coming of age tale. Maybe more than any other environmental topic, GM is telling the story of our times, politically, technologically, environmentally, psychologically, scientifically and culturally. It's a story of whether and how we survive our cultural and scientific adolescence and transition into maturity.
"In essence it's the story about the moment of possibility that find ourselves in now and about finding the will to collectively set our feet on the path towards a more secure and sane future.
"So this talk I'm going to give this morning is a little different from some of the others that you have heard or are going to hear this weekend. It's basically the same one that I've given to NYR staff in London and although I've tried to tone down the most technical stuff, inevitably to talk about GMOs you have to give your 'inner geek' a bit of room to roam.
"By the time we get to the end I hope you will have a better understanding of the what the process of genetic modification of agricultural crops entails, and why we as a company have some really very serious concerns, doubts and questions about this technology and why we feel it threatens average citizens like ourselves but also our organic brand, and why we believe that we must be speaking out about it in the strongest possible terms.
"In addition to my multiple roles at NYR I am also a long time environmental campaigner and journalist and I am old enough to have watched the progress of GM technology over time with a growing sense of alarm.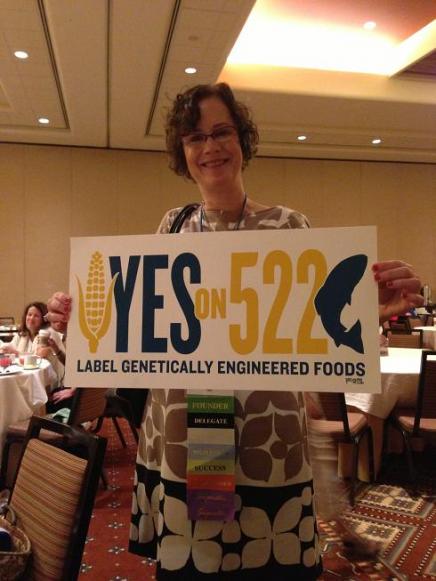 "It's a technology that has become widely adopted and integrated into our farming and food systems with almost no regulation, no human safety testing, no oversight or sense of responsibility to current and future generations. And the longer the saga of GM goes on the more alarming the data about what it is doing to our environment and to our health becomes.
"For us at NYR Organic the issue is clear – the people have a right to know. And where the data is unclear there is an absolute responsibility to apply the Precautionary Principle.
"For all of you it is a next step on your journey. It may be a bit like the organic journey that some of you have taken. Perhaps before you joined the company or when you were very new to it you thought of organic as a nice to have. Then comes that ah-ha moment, the day you woke up and realised that in fact it was a must have and you couldn't imagine any other way of living or thinking or being. So it is with GMOs. There simply comes a moment when you know in your bones that we need to say "no" and that the decisions we take now, whether we choose to be active or inactive on this issue, will have repercussions for generations..."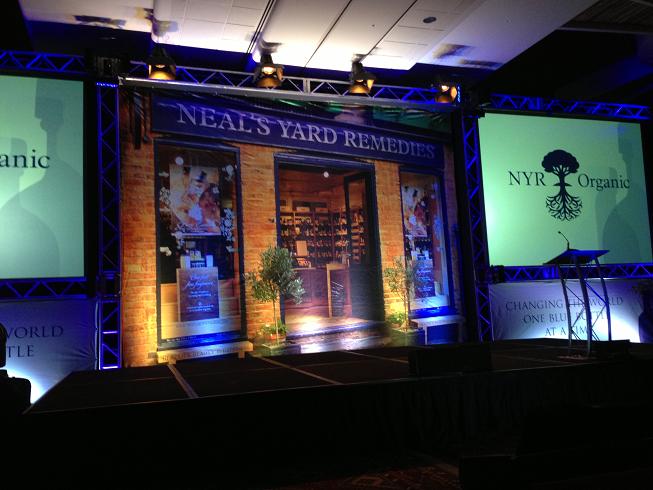 What followed was 40 minutes of slides, video, jokes, profanity (oops, just slipped out!), and a chance to give my GMO manifesto (see below) an airing! Thanks to everyone who listened so intently and gave me such a warm reception, and posted such enthusiastic tweets about the talk. Let's keep spreading the word!
The GMO Manifesto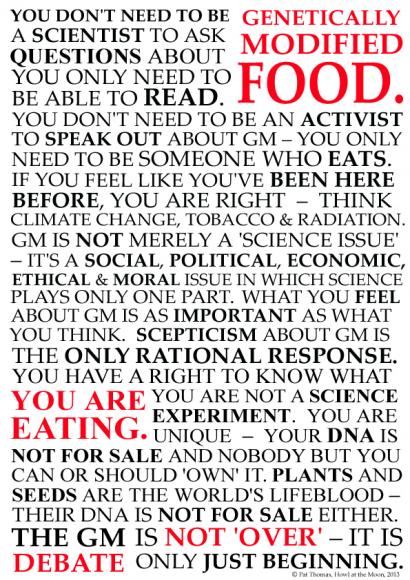 In a week when the UK government has stupidly and inexplicably thrown its support behind genetically modified crops...(23/6/13)
...crops that almost every other country in the world is trying to get rid of, I found myself wondering how to sum up my own feelings clearly and succinctly and not in the usual 10,000 word dissertations that have become so common in the campaign against GM.

Don't get me wrong, it can be fun to dig out obscure references to try and prove your point at incredible length. But by going down this route I fear we ignore the fact that GM is not just a science issue. It is, as my thought experiment tries to sum up, a social, political, economic, ethical and moral issue in which science plays only one part.

I also wonder how effective 'geeking it up' is at bringing everyone else (which is, like, 95% of the planet) along on an issue that is so vital to all our futures.

You might think I have more time on my hands than is good for me (definitely not true)! But this GMO Manifesto (in the style of the inspirational
Holstee manifesto
and others like it) is where I ended up. If you like it please distribute it more widely so hopefully more people will feel empowered to speak out.

Thanks to the Ecologist website for giving this manifesto
a wonderful boost
recently - lots of people have uploaded it since.

You can download the .pdf version
here
.

Anyone is free to use this on their website - but please credit me and link back to my site.
Why millions marched against Monsanto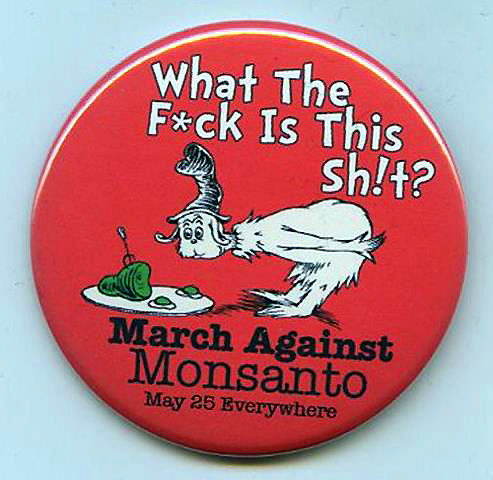 Last weekend more than 2 million people worldwide joined a March Against Monsanto (30/5/13)
While Monsanto has become the focus of many people's justified ire, the real issue extended beyond the company that has brought us such scientific 'miracles' as Agent Orange and aspartame to the continued skulduggery of all the biotech companies including Syngenta, BASF, Dow AgroSciences, Bayer CropScience and DuPont Pioneer to name a few.
Everyone who marched or supported the march had their own legitimate gripes about biotech. For me the patenting of seeds, and the patenting of DNA are among the most urgent. Using the law to stealthily take away our ownership of our food and our bodies (and possibly our health) is abhorrent.
As we monitored the progress of the marches a friend of mine asked: If you eat genetically modified food and the DNA survives inside of you, does Monsanto own you?
It's not such a crazy question so I hope you will all indulge the length of this comment as I tease out some basic thoughts...

You can read the full post
here
.
Healing Foods is out!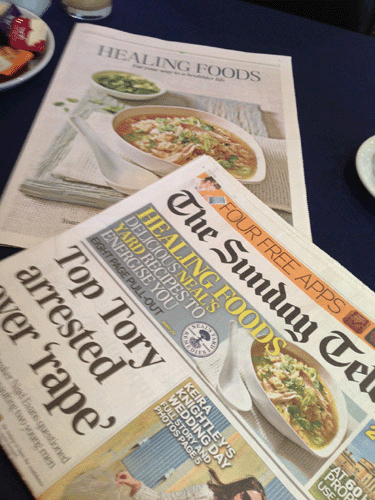 My new book – co-authored with my colleagues Susan Curtis and Dragana Vilinac from Neal's Yard Remedies – is finally out! (6/5/13)
It's called
Neal's Yard Remedies Healing Foods
and the launch began with a bang – a fantastic 8-page pullout in the
Sunday Telegraph
. The book, which features in depth descriptions of over 175 healing foods and more than 130 recipes, as well as useful suggestions for healthy eating plans, is climbing up the Amazon rankings. It's great to see it out there and thanks to everyone who has been so generous in their praise for it.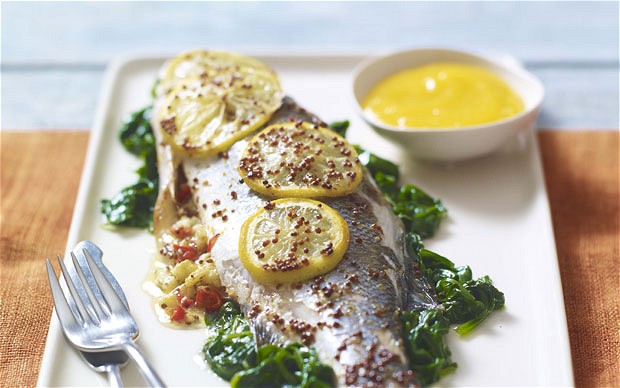 In addition to the recipes featured in the Telegraph supplement, we've put some extracts on the
NYR Natural News
website (which I edit):
Cooking with medicinal herbs
,
Astragalus and schisandra broth
and
Quinoa and vegetable stack
. Enjoy!
New book on the way!
I'm looking forward to the May 1st release of a new book, Healing Foods. (15/2/13)

With its emphasis of fresh, local and organic food as the most important thing we can do for our health, it's especially topical given the current scandal over horsemeat in processed and convenience foods.
I'm a firm believer in knowing what you are eating, and in cooking from scratch and I've got a lot of cooking classes under my belt. I've also spent a lot of my career studying and writing about food (and farming) from the perspective of what the science says.

Healing Foods is a perfect blend of traditional wisdom and modern scientific understanding of how food influences health. It features over 175 "healing foods" from common fruit and vegetables to more exotic spices, pulses and grains. Each features an in-depth description on their health benefits, stunning photography and annotations highlighting which parts are particularly beneficial, and advice on how to optimise their health-giving potential.

There are also over 130 delicious recipes, from energizing breakfasts and strengthening stir-fries to snacks for a healthy pregnancy and desserts that combat colds.

The full colour format of this book, published by Dorling Kindersley, is kind of a departure for me and was great fun to work on. It is a substantial and beautiful volume and my co-authors, Susan Curtis and Dragana Vilinac, and myself are so pleased with the way it has turned out.
Elected to the Soil Association council!
How happy am I?! (1/10/12)

It's a real honour to be able to say that I have just been elected to the Soil Association Council. It was a very strong ballot with some great candidates and I honestly didn't expect to have a chance. Apart from being a longtime supporter of organic, I have been involved, in an ad hoc way, with the Soil Association on and off for years (scroll down through these updates for more). I am so gratified that Soil Association members felt confident enough to vote for me, as well as for food writer and campaigner Joanna Blythman, and Andrew Whitley, founder of the Village Bakery and Breadmatters – two people I know and greatly admire. I'm really looking forward to working with everyone.
Salone del Gusto and Terra Madre 2012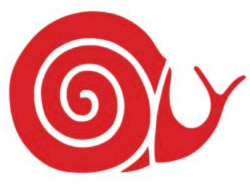 Now, this really is a treat for me... (24/9/12)
As a sustainability campaigner, part-time forager and full time passionate cook I can't tell you how much I am looking forward to being a UK delegate at the
Salone del Gusto and Terra Madre 2012
, in Turin, hosted by
Slow Food International
.

This will be my first experience of this semi-annual get together whose aim is to combine appreciation of the social/cultural aspects of food with some vital issues of sustainability.

Over 4 days the event will explore some of the key issues connected with food production and consumption: from the role of young people and small-scale traditional producers for the future of agriculture, to the safeguarding of landscapes; from the fight for GMO-free farming to the protection of herders and small-scale fishers; from the need to strengthen the relationship between producers and consumers, to the promotion of responsible food choices made with awareness of their impact on health, the environment and the production system. Can't wait.

Allora...mangiano!
New deck at Infrequently Asked Questions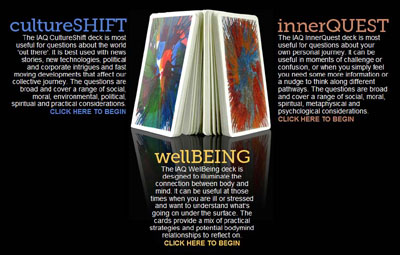 My Infrequently Asked Questions site continues to go from strength to strength thanks to word of mouth and a few nice pushes from friends. (18/9/12)
I've just added a new deck called WellBeingwhich is health focused. It's designed to illuminate the connection between body and mind and can be useful at those times when you are ill or stressed and want to understand what's going on under the surface of physical symptoms. The cards provide a mix of practical strategies and potential bodymind relationships on which to reflect.

The InnerQuest deck is great for moments of challenge or confusion, or when you simply feel you need some more information or a nudge to think along different pathways.

The CultureShift deck is for insights into events on the larger world stage (it makes the political personal!). I've had some great fun using it in the run up to the US presidential election...

There are a lot of regular visitors to the site now, which is really gratifying. If you are one of them – or about to become one of them! – remember to let your friends know about it too. It's fun and it can be a really useful tool for insight into personal and cultural issues.
Older updates can be found here.